Extension is a virtual reality for SPATEX
Visitors to the extended SPATEX Virtual exhibition can gain the benefit of obtaining information on training and products along with new special promotions of unmissable opportunities for dealers until the platform closes on March 6.
Organisers of this year's unique SPATEX Virtual format have been promoting the fact that there is currently a unique reality of an extended period for the wet leisure showcase where registered visitors can still access ISPE seminars and exhibition booths, including those that are providing the 'not to be missed' chance to become dealers of Beachcomber hot tubs, as well as Master Spas hot tubs and swim spas.
Family-run wet leisure and outdoor product specialist Award Leisure has been utilising the online capability of the SPATEX Virtual exhibition hosted on the vFairs platform to promote its new status as exclusive UK distributor for the famous Beachcomber brand.
During SPATEX Virtual the Beachcomber booth is showcasing new Silver, Gold and Platinum dealer packages as part of a limited opportunity for showroom retailers to become a supplier of Beachcomber hot tubs with special edition designs from the Canadian manufacturer.
Prospective dealers can check out the Beachcomber booth that is highlighting Award Leisure's launch of the dedicated UK retailing packages and promotion of Beachcomber's 2021 Special Edition Hybrid4 Hot Tubs (SE) that incorporate the British Columbia-based manufacturer's patented FlexJet technology and up to 150 jetting configurations.
The Special Edition Hybrid4 collection includes Beachcomber's six-seater 730 SE Hybrid4, which comes in at 203 x 224 x 97cm; five-seater 550 SE Hybrid4, which comes in at 203 x 224 x 97cm; and five-seater 350 SE Hybrid 4, which comes in at 203 x 224 x 97cm.
Award Leisure Franchise also has a virtual booth that will benefit from the extension period to promote the British Hot Tubs brand and franchise opportunities with 'strong returns' and from a choice of Premium Dealership (Limited Availability) or full 'One-stop-shop' Franchise opportunities on offer with comprehensive marketing supportive from an experience wet leisure and outdoor product team.
The three-seater British Hot Tubs Mercury, which comes in at 212 x 150 x 82cm, five-seater British Hot Tub Westwood, which comes in at 208 x 177 x 85cm, and seven-seater British Hot Tubs Sterling, which comes in at 234 x 234 x 93cm, have gained a hat-trick of 2021 WhatSpa? Holiday Park Best Buy Awards for the brand that is making its presence felt in the hot tub holiday sector with sales and marketing that is promoting the fact that these designs are 'beautifully durable' to withstand 'years of extensive use while retaining quality and beauty with minimal maintenance'.
Master Spas has made a big splash on the SPATEX Virtual platform with the promotion of 'legendary' product designs and new dealer opportunities within a dedicated Master Spas UK network that is being rolled out to provide nationwide coverage for the leading swim spa and hot tub manufacturer.
With experienced hot tub and swim spa specialist Martyn Winstone recruited as Master Spas UK National Sales Manager the network is being expanded with a major recruitment drive initiative to supply and promote the USA manufactured WhatSpa? Best Buy Award-winning hot tubs and WhatSwimSpa? Best Buy Award-winning swim spa designs, endorsed by Olympic swimming legend Michael Phelps.
As part of its SPATEX Virtual online exhibition presence Master Spas has been highlighting its 'made in the USA' credentials and exclusive Master Spas UK dealer opportunities with competitive margins for hot tubs from the state-of-the-art Michael Phelps Legend designs and Michael Phelps Signature Swim Spa range, as well as the Twilight series and dedicated WhatSpa? Holiday Park Best Buy Award-winning Getaway Lodge Series hot tub designs that ensure HSG282 compliance for hot tub holiday businesses.
This includes the four-seater Master Spas Getaway Lodge GL4, which comes in at 215 x 178 x 87cm, and Master Spas Getaway Lodge GL6, which comes in at 216 x 216 x 89cm.
To increase its presence in the UK market, Riptide Pools Ltd, which achieved 2020 WhatSpa? Best Buy Award status for its five-seater Riptide Spas Urban Lite Uptown design that comes in at 212 x 212 x 92cm, has also been showcasing its portfolio of hot tub and swim spa options as part of a 2021 recruitment drive for retailers.
The SPATEX Virtual booth of Riptide Pools, which is part of the Crystal Island Wellness Group, is helping to highlight competitive margins for dealers and boost a wide range of hot tub and swim spa designs, including Infinity hot tubs. Models in the Infinity range are currently being promoted by seven-store Hot Tub Barn hot tub and swim spa specialist showroom network with focus on the outstanding neck and shoulder massage capability.
Caldera Spas distributor Certikin, which has been running a 'Treat yourself to some TLC with Caldera' marketing campaign to hot tub consumers during the past year and gained 2020 WhatSpa? Best Buy Award status for the six-seater Caldera Spas Vacanza Marino, which comes in at 213 x 213 x 98cm, and six-seater Caldera Spas Vacanza Paltino. which comes in at 236 x 204 x 92cm, and imposing eight-seater Caldera Spas Utopia Cantabria, which comes in at 274 x 231 x 97cm, also has a booth as SPATEX Virtual that is promoting Certikin Spa Covers that have been created with the highest grade materials at its manufacturing facility in Leeds.
Certikin is also showcasing the Harvia sauna and spa products, as well as the Xclear Surface disinfection solution that provides safe UV-C disinfection as part of a compact and lightweight system. The virtual booth is also highlighting Quantum, which utilises ceramic nano crystal technology to create one of the most powerful forms of sterlisation for pool water.
Proclaimed as a 'one of a kind system', the Certikin Plant Room Shield is also being promoted at SPATEX Virtual. It has been designed to detect leaks within the swimming pool plant room so that major flood damage can be prevented.
While you are browsing on these virtual booths, and those of the other exhibitors, you can request further information with the user-friendly 'Request a call back' button, which is highlighted in pink on every booth.
Meanwhile, SPATEX Organiser Michele Bridle has reported that there is no need to worry if you have not yet viewed any or all of the 22 seminars organised by ISPE for this year's SPATEX Virtual edition.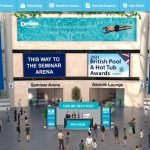 These seminars received an audience of 2,435 people over the three 'live' days of the online exhibition and, as with the exhibition booths, they can still be accessed in the Seminar Arena via the lobby area of the online platform, pictured, until the March 6 deadline. The beauty of this virtual format is the fact that you can take a break from tuition and then return to the seminars at any time day or night before the time runs out to gain the specialist product and training advice.
"The high amount of content that visitors downloaded, and the huge amount of interest shown in the seminar programme, are testimony to the value of the show," declared Michele Bridle; " It's an added bonus that all this information is still accessible until March 6.
"Whilst we are proud to have created a high-quality virtual platform for our industry to connect at this time, there is no substitute for face-to-face business, so we are looking forward to the return of a live event at the Ricoh Arena in Coventry from February 1 to February3, 2022."
Registration for SPATEX Virtual is free and takes seconds to complete at: https://spatexvirtual.vfairs.com/en/registration This provides access to all the SPATEX Virtual exhibitors and Seminars, which have dedicated areas that can be accessed you're your enter the virtual lobby. Preferred browsers for the platform are Google Chrome, Firefox, Safari, and Microsoft Edge.
www.awardleisurefranchise.co.uk