Extra support for hot tub range
Golden Coast has responded to the rising demand for accessories to enhance hot tub ownership by increasing its ranks for tubhub customers to benefit from extra support.
As the latest addition to the Golden Coast Technical Sales team, Teres McGraw is one of the new experts working with customers to provide advice and guidance on the latest hot tub trends and bestsellers from the tubhub range, which is proclaimed to be Europe's largest collection of hot tub accessories that covers every aspect of ownership, from maintenance and cleaning, to comfort and entertainment.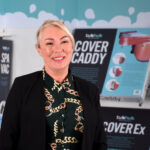 "Golden Coast has a fantastic reputation for exceptional customer service and expertise, so I was delighted to become part of the team here," says Teres, pictured. "Much of my career has been in sales and account management, and it's nice that I now get to work with such fun products in the tubhub range.
"Any hot tub owner wants to make the most of their investment, and that means getting the right equipment that can not only enhance enjoyment, but also prolong the lifetime of the spa.
"I love speaking to customers, getting to know them and helping them source products that really work for them. One moment I might be discussing the lovely inSPArations fragrance range and the next I'm putting in orders for novelty rubber ducks. There is a lot of variation in my role which I like.
"For our customers, tubhub provides an ideal opportunity for upselling and the products make attractive additions to showrooms. I'm really looking forward to getting out on the road and presenting customers with the different options available. There's something for everyone.
"It's been great to be able to support the team as tubhub sales are through the roof. Everyone at Golden Coast is really helpful and I've just been making sure that I'm listening and learning as much as possible. The team is extremely knowledgeable and proactive. No matter what query the customer has, Golden Coast provides the best solution possible."
Following the acquisition by Pollet Pool Group (PPG) Adam Clark has been rewarded for his success as Golden Coast Sales Director with the role of General Manager for both PPG UK & Ireland and Golden Coast; after helping to promote the launch of tubhub during the past year.
"It has been encouraging to see how well our customers have responded to tubhub," divulged Adam.
"We are seeing increasing product demand across the sector and by expanding our team we can ensure that we not only meet but also exceed customer service expectations.
"Our Technical Sales team is our frontline, and we are pleased to have Teres on board. Her experience and ability to build customer rapport has been really important to us, as we pride ourselves on our customer relationships."