Fast lane retailing features
Spa Crest Europe is hitting the fast lane to attract UK retailers to its growing dealer network with the promotion of a unique hot tub feature.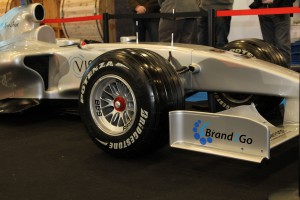 The world's first carbon fibre manufactured hot tubs were showcased at SPATEX earlier this month alongside a carbon fibre composed F1 racing car and Spa Crest Europe Managing Director Tony Welsby believes it will put dealers in pole position to achieve sales this year.
"The carbon fibre manufacturing feature of our hot tubs now provides our dealers with a 'world first' unique selling point because no one else is doing this," said Tony.
"It has added incredible strength to the shell, which is already the strongest, and will be a good talking point in showrooms for dealers when they are comparing our hot tubs with other models from their competitors."
Georgia-based Spa Crest, which has the Brand2Go own-brand option for retailers, has been revamping the Coastal range and Tony is now seeking additional dealers in the North East, Lincolnshire and South Midlands regions.
"Our dealers now have unique selling features and updated models for 2014," said Tony; "Plus price points across the board that they have then got the scope in their showrooms to cater for all budgets.