Final call for hot tub prize nominations
RotoSpa is making a final call for nominations of deserving 'heroes' who have gone the extra mile during the Covid-19 pandemic and could be in with a chance to win a DuraSpa S380 hot tub.
The Sutton Coldfield-based British manufacturer, which has reported that it has been selling five times as many hot tubs as normal due to increased demand in the spring and summer months, has received over 150 nominations for the prize so far.
Before the July 31 deadline there is a last chance to be in contention to win the £6,000 hot tub and join the nominees who have had their stories featured on the RotoSpa website at: www.rotospa.co.uk/your-national-heroes
They are now in line to win the rugged hot tub from the WhatSpa? Best Buy Award-winning range of designs with advanced rotational moulding techniques as part of a UK-wide search that has so far highlight outstanding acts of kindness, compassion, and generosity to improve people's lives while coping with the Covid-19 pandemic 'new normal' circumstances.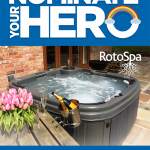 Sophie Wiggett of RotoSpa conceived the hero search campaign and hot tub prize initiative and has been inspirational in promoting the nomination process since it was launched in May, which has helped to highlight the endeavours of deserving NHS staff, as well as brave actions from young children.
"We've received over 150 wonderful stories from all over the UK," reported Sophie; "We've had stories about NHS staff, moms, dads, neighbours, very brave young children, teachers and many, many more.
"It's a fantastic project to lift the nation's spirits and to recognise the people around us every day during the last few months, who are being extraordinary by just being their ordinary selves.
"People's generosity and kindness towards others during these challenging times has been overwhelming and we want to give an opportunity to say a heartfelt 'Thank You' to 'Heroes'."
The RotoSpa hot tub that awaits the 'Hero' prize winner also has a 1,050 litre water capacity with a filled weight of 2,770kg and has been produced with RotoSpa's MoodGlo waterfall feature with backlit LED light.
With the capability to accommodate five to six people within the British manufactured design, which features a master seat and two lounger seats, the DuraSpa S380 comes in at 1990mm x 1990mm x 770mm and incorporates the unique Roto-therm insulation throughout the cabinet, base, and rear of the shell.
It has been produced with 38 jets, including 20 Luxury Hydro Jets that are strategically integrated throughout the tub, as well as 18 multipoint air injector jets for the lower back and feet.
www.rotospa.co.uk/nominate-your-hero