First UK delivery of 'behemoth' swim spa
Award Leisure has taken delivery of the first Coast Spas Wellness Infinity 2100VE Swim Spa to land in the UK that is now available for prospective owners to view at the Warwickshire showroom.
The specialist hot tub and swim spa dealer network is now diving into promotion of the 2019 WhatSwimSpa? Best Buy Award-winning 2100 VE after the enormous unit, which has been dubbed as a behemoth after being proclaimed as the world's largest infinity edge swim spa, was craned into place last week at the Dordon showroom site.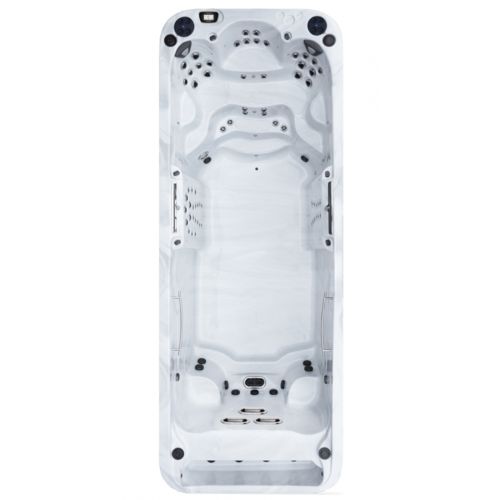 Coming in at 655 x 229 x 161cm, the 2100VE, pictured, has seating capacity for seven adults and incorporates the Coast Spas patented Infinity Edge technology, 67 Trillium Stainless Steel Massage Jets, dual 24" waterfalls and  luxury stainless steel massage jets and its extra wide shell provides enough space for tandem swimming.
With a whopping 10,487 litre capacity; the single chamber 2100 VE has a dry weight of 1815KG and wet weight of 12,302KG. It is Smartphone Remote Control Compatible and features Extreme XL Water Diverters, three Swim Resistance River Jets and five Counter Current Pumps.
Available as an above-ground and in-ground option, it is dubbed as a 'behemoth' in the latest edition of WhatSwimSpa? and this beast of a swim spa has already made an instant impact in the UK market with an inaugural WhatSwimSpa? Best Buy Award accolade in the £30,000 Plus price category of the consumer magazine.
The WhatSwimSpa? Verdict states: 'This is a behemoth of swimspa at over 6.5m long and containing over 10,000 litres of water, it even boasts the ability for two bathers to swim side-by-side at the same time! If replicating the open water swim experience is important to you, the 'infinity edge' coupled with the smooth, adjustable water flow powered by five pumps is second to none'.
Next week Award Leisure will be following up their exciting delivery of the huge swim spa by attending the British Franchise Association HSBC Franchise Awards as a nominated finalist in the 'Emerging Franchisor of the Year' category.
They are up against Access4Lofts and Radfield Homecare in this category, and the winner will be announced on Thursday, June 27, in the Vox Conference Centre, at Resorts World, in Birmingham.
Award Leisure's Franchise Development Manager Jessica Anthony has headed up the franchise initiative since its launch and has implemented strong brand awareness and shown incredible leadership. She is now a Qualified Franchise Professional after completing the necessary QFP coursework, modules, and additional seminar requirements.
"We're very excited for the upcoming awards, and to be recognised among some incredible franchises at a renowned event," reported Jessica.
Ahead of the awards presentation ceremony British Franchise Association CEO Pip Wilkings reported that this year was particularly tough for the judges to narrow down their shortlists.
"So many franchise brands presented excellent cases for being put forward," divulged Pip; "So for those that have been shortlisted, they really have gone above and beyond in helping their network."
Head of Franchising at HSBC Andrew Brattesani, added: "To be a finalist in any of the franchisor categories shows that each business is going above and beyond to ensure the model is working well for the franchisor, franchisee, and all associated staff.
"No matter which accolade the company has been put forward for, I wish all the nominated companies the best of luck on June 27."
Award Leisure are the only hot tub retailer network with exclusive rights to the Regency Spas Hot Tub & Swim Spa Collection, which is produced by Canadian manufacturer Coast Spas, and prospective franchisees are given the guarantee that they will be the only retailer offering these premium and exclusive models in their dedicated territory.
www.awardleisurefranchise.co.uk