Former Royal Marine Terry Marsh tests the waters with brand new Dorset showroom for Hyperion Hot Tubs
Former Royal Marine Terry Marsh is hoping to make a splash with the launch of his new hot tub and swim spa showroom. The 33-year-old founded Hyperion Hot Tubs last year, starting initially as a hire business. It took off during the 2020 lockdowns as the lack of foreign travel and holidays led consumers looking for new home experiences.
Terry, who served seven years in the Royal Marines, speaking to Dorset Biz News, said: "Increasingly customers were asking about buying a hot tub, I was constantly referring them to other local businesses and then the penny dropped. Why don't we do sales?"
Hyperion Hot Tubs is the authorised dealer for Master Spas in Dorset. Operating out of a state-of-the-art, 530,000-square-foot manufacturing facility on a 36-acre manufacturing campus, Master Spas is the largest swim spa manufacturer in the world, and largest portable hot tub manufacturer that makes 100% of our product in the USA. The company's executive team boasts more than 200 years of spa manufacturing success and one of the strongest track records in the industry.
The company has enjoyed strong growth throughout its 25-year history, becoming the largest manufacturer of hot tubs that are made in the USA, and the largest manufacturer of swim spas globally. Tens of thousands of hot tubs and swim spas are built annually and shipped to dealers around the world.
The big challenge for Terry was to find premises big enough to showcase the range of Master Spa products. He said: "We really felt it was 'mission impossible' until, by a complete stroke of luck, we found our current home on the Uddens Trading Estate in Wimborne and it's 4,800 sq ft and absolutely perfect for our needs. I can't speak highly enough of Birchmere who own the property. They couldn't have been more helpful or efficient."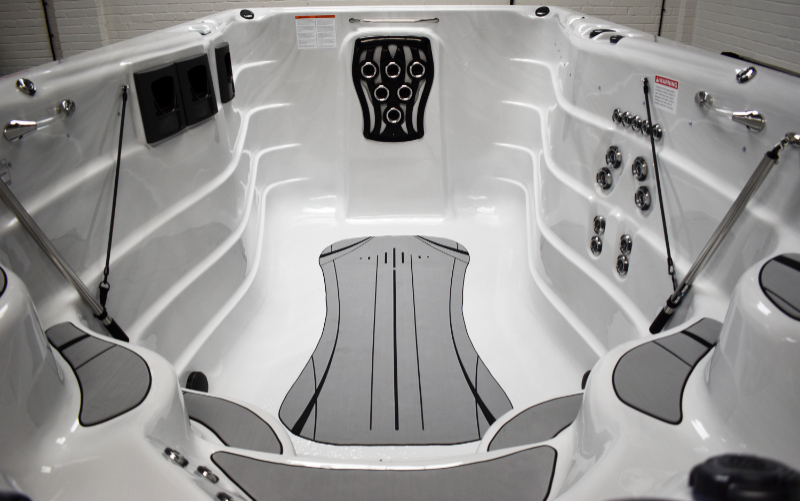 Hyperion Hot Tubs began trading from its new showroom from the end of June. The Master Spa products sold range in price from £4,995 for the three-seater Getaway 2 with 17 hydrotherapy jets to the Michael Phelps Momentum Deep – a combination of swimming pool and hot tub – costing £46,995.
Despite their 'Love Island' image, Terry added that hot tubs and swim spas are particularly popular with families. People with health conditions such as arthritis and related rheumatic issues also benefit from the hydrotherapy aspects, he added, with the top of the range swim spas being ideal for exercise, even boasting their own rowing equipment.
Terry said: "You literally have to crowbar young people out of hot tubs, they just love them. Parents find they not only create family fun but also are one of the ways of getting their children to put down their phones."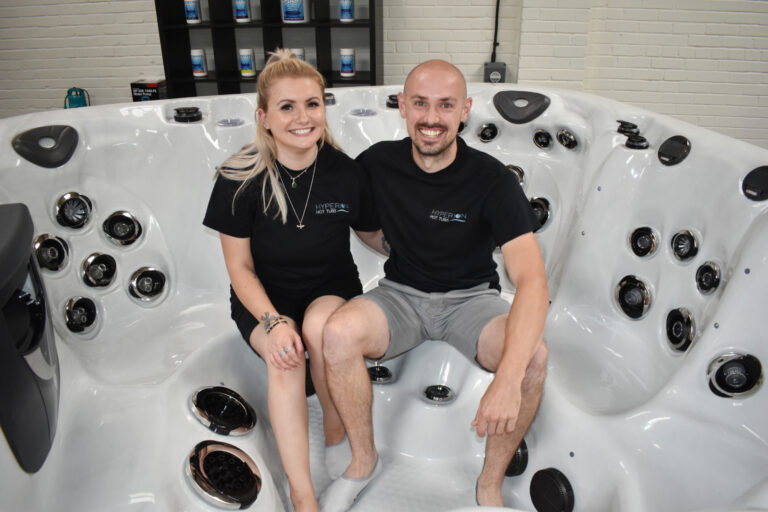 Hyperion Hot Tubs is a member of BISHTA (The British and Irish Spa and Hot Tub Association) and abides by its strict guidelines on hot tub safety and ethical trading practices. Terry is assisted in the business by partner Eleanor Meadows who worked in The Royal Household at Buckingham Palace for more than two years.
Eleanor, 29, looks after customer service and administration, while Terry, who's Bournemouth born and educated said: "We're hungry for success but only when it's done properly. We deliver and install the hot tub or swim spa and won't leave until our customer is absolutely happy. Our aim is simple, to be the best."