Foundation support and safety awareness
Master Spas is supporting the Michael Phelps Foundation and helping to raise awareness about how to safely enjoy the water in tandem with a major international sales initiative during May.
As part of National Water Safety Month and its global sales event, taking place from May 3 to May 31, Master Spas will donate a portion of its sales to the Michael Phelps Foundation.
The Michael Phelps Foundation works to promote healthy, active lives, especially for children, primarily by expanding the opportunities for participation in the sport of swimming. Programs provide a learn-to-swim, healthy living, and goal-setting curriculum worldwide through the Boys and Girls Club of America and Special Olympics International.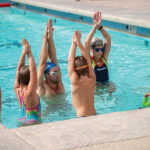 As part of the event, Master Spas is giving back and will be contributing a minimum of $50,000 to the Michael Phelps Foundation. The company, which is the world's largest manufacturer, is encouraging its global network of dealers to match its contribution.
In addition, customers will also have the opportunity to make a donation. Customers can get more information and download a coupon for additional savings up to $2,000 by visiting MasterSpas.com/globalsale
Master Spas' entire range of hot tubs and swim spas will be on sale during the event. Customers can take advantage of special pricing on the best-selling Twilight Series TS 7.2 hot tub and the H2X Trainer 15D swim spa. Or, they can choose from the luxurious Michael Phelps line, including the LSX 900 hot tub and MP Momentum Deep swim spa.
"Our goal at Master Spas is to create safe, enjoyable spaces for families to relax and have fun in their own backyards," said Master Spas Vice President of Sales and Marketing for Kevin Richards,
"A hot tub or swim spa provides myriad benefits but it's important to be safe anytime you are around water. That's why we're proud to partner with the Michael Phelps Foundation to help promote water safety and healthy, active lifestyles."