Full circle for Hot Tub Man
The Hot Tub Man retailing couple Jamie and Julie Giles have signed up to become a Master Spas dealership to mark the move to new premises at the former location of the Spaform factory in Southampton.
Jamie originally worked for Spaform drilling holes for the hot tub jets to fit in. After progressing to installation work for a few years Jamie was forced to work in the office following a factory fire. He later saw an opportunity to develop a company that would carry out warranty work for Spaform customers and The Hot Tub Man was born.
Over the years Jamie has helped to service and relocate a number of Spaform models including a Milano, Platinum 60, Oslo, Barcelona, Geneva, and Fraser Diamond for their existing owners.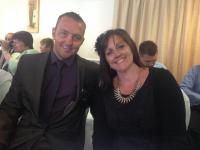 The couple, pictured, had to have hot tubs displayed outdoors at their first business premises location and then during the past 18 months at their second showroom site, in Unit 7 of the Fairways in Botley, they incorporated their own branding with six Brand2Go models from Spa Crest Europe.
Model names in the Hot Tub Man's Luxury Range are based on the places they have visited in the Canary Islands, which hold special meaning to them. These include the Pajara, Arreciffe, Corralejo, Teguise, Tejeda and Malpaso. They also service and retail previously owned hot tubs.
Now Jamie and Julie are feeling positive about their latest wet leisure venture having relocated their Hot Tub Man company to Number 3, Hilton House, at the Bottings Industrial Estate where Spaform was previously based.
"In some ways Jamie has now come full circle by returning to the Bottings Industrial Estate where he worked for Spaform," said Julie.
"This location is much more accessible for potential customers than our previous showroom. That was off the beaten track. Now we are more central for people to come and visit us."
Although Master Spas has been creating waves with its WhatSwimSpa? Best Buy Award-winning Michael Phelps Signature Swim Spas, which feature the patented Wave Propulsion technology, Jamie and Julie are looking to initially concentrate on hot tub sales from the Indianapolis-based manufacturer that produces the Healthy Living and Twilight Series ranges.
"Originally e were approached by Master Spas in November to potentially become a dealership and have taken it from there," said Julie. "We then had a recent meeting a couple of weeks ago to progress things.
"We've now just signed up and we're excited to be retailing an internationally-recognised range of hot tubs at our new showroom premises."
Now Jamie and Julie are making preparations to display seven hot tubs and gearing up for an official Easter weekend launch at the start of April to promote both their Master Spas dealership status and their new showroom location.
"We've been really busy since the start of the year, almost too busy to move!" reported Julie; "But we're not going to complain about that.
"Our intention is to have an official launch for the showroom during the Easter weekend. That should give us enough time to make the necessary preparations and get things ready in the showroom."