Full steam ahead for Caroline
Wet leisure product distributor Golden Coast has welcomed Caroline Foster to its sales team as part of a host of initiatives designed to support the trade amid the ever-increasing demand for saunas and steam rooms.
As the exclusive UK distributor for world-renowned sauna manufacturer Tylö, Golden Coast works with customers and stockists to provide in-depth product knowledge, sales advice and technical support. Caroline has now reported that there is currently strong demand for sauna products after boosting the ranks of the Golden Coast technical sales team of Tylö specialists.
"Demand for Tylö products is through the roof, and I certainly hit the ground running," divulged Caroline; "But I love working on the sauna and steam room products. I enjoy how fast-paced it is."
To support Tylö stockists in meeting ongoing demand, Golden Coast will be running a series of training sessions at its Barnstaple premises.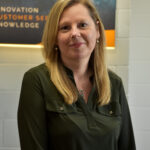 "Our Tylö sales team will be holding workshops with distributors to share information about product features and installations, which they can apply when speaking with their customers," explained Caroline, pictured.
"A key part of the workshops is showing distributors how to use our online Tylö Harmony sauna configuration tool. Distributors can sit down with their customers and use the tool to build a specification of a sauna, including size, wood type, finish, and more. It creates 3D visuals and is a great sales tool.
"Golden Coast has also planned some trips to the Tylö manufacturing premises in Sweden, where we show distributors how the products are made to enhance their understanding of what makes these saunas and steam rooms so special."
Golden Coast Sales Director Adam Clark has welcomed Caroline's appointment and revealed that Tylö saunas and steam rooms are extremely popular due to their high-quality build and luxury finish.
"We are committed to maintaining our exceptional levels of service, and we're pleased to welcome Caroline on board as we strengthen the support for our Tylö customers and distributors," said Adam.
"Caroline has already proven to be an excellent addition to the team."