Future business growth highlighted to dealers
Hot tub and swim spa dealers are being advised that business leaders expect Brexit to prompt a fall in economic growth in the short-turn but they are feeling positive about the long-term opportunities for small businesses.
Despite nine in ten business leaders feeling gloomy about the immediate impact of Brexit there is a large percentage who are extremely positive about Britain's economic future. Of the 450 respondents to the Business Growth Fund's Growth Climate Index, 74 per cent believe that Britain is still a strong place to start and grow a business.
Although there was uncertainty leading up to the EU referendum, only 41 per cent of business leaders surveyed reported that they had postponed key business decisions over the campaign period. Just over half, 54 per cent, also suggest that continued access to the single market should be the priority during discussions with Europe.
Under a quarter, 22 per cent, of those surveyed want a key element to be the attraction of overseas businesses to remain or invest in Britain; while ten per cent indicated that a priority should be ensuring that businesses can attract and hire the best international skills and talent. Only nine per cent believe that reducing the regulatory burden on business is a negotiating priority.
Business Growth Fund Chief Executive Stephen Welton reported that he was feeling positive about Britain's business community, despite the concerns among business leaders about the implications of Brexit.
"Business leaders and entrepreneurs are clearly concerned about some of the implications of Brexit," said Stephen; "But like me they remain positive about Britain as a place to do business.
"The fundamentals that make the UK so attractive to growing businesses have not disappeared, and businesses will continue to contribute to the economy and create jobs.
"It is vital that business continues to make its voice heard to ensure that its priorities are high on the next government's agenda. Most importantly, we should aim to ensure that Britain remains a pro-enterprise country and that businesses retain the best possible access to the single market."
Senior Corporate Lawyer at law and consulting business Gordon Dadds specialises in international work and business development and has been outlining the consequences of a Brexit for small companies via the smallbusiness.co.uk online platform and has stressed that from a legal point of view it may be difficult to completely break away from EU law.
"One has to ask the question of what sort of relationship the UK would have with the EU going forward," said Gordon.
"Even EU associated states such as Turkey, which simply have a trade connection, are required to comply with parts of the 'acquis communautair'. So it may be very hard to escape EU law altogether."
Association of Independent Professionals and the Self-Employed (IPSE) CEO Chris Bryce has called for post-EU referendum priorities to be new global trading arrangements; along with reducing regulation burdens on small and micro-businesses, plus the necessity to ensure the UK has the most flexible and attractive economy in the world.
"With these priorities, the UK can be a place where freelancing and contracting can thrive," declared Chris; "New circumstances always bring new opportunities for freelancers. We should be optimistic about the future and IPSE will continue to push the importance and value freelancers bring to our economy.
National Association of Commercial Finance Brokers Chief Executive Adam Tyler has also welcomed a report by the Bank of England that has revealed the British economy has showed no signs of slowing down after the EU referendum decision.
"As yet, there was no clear evidence of a sharp general slowing in activity," stated a report by the Bank of England's agents.
New Chancellor Philip Hammond welcomed the report's findings and declared it was proof that the fundamentals of the British economy are strong.
"As the economy adjusts to the effect of the referendum decision, it is doing so from a position of economic strength," said the Chancellor.
There was also addition good news for new Prime Minister Theresa May who has followed up her 'Brexit means Brexit' vow with a positive opening statement during her first Prime Minister's Questions about a dramatic surge in employment.
According to official figures, there are now more people aged 16 to 64 in work than ever before. The employment rate shot up to a record high of 74.4 per cent, which is the highest since records began in 1971, while the unemployment rate is currently below the level of five per cent for the first time in 11 years.
"I'm sure that the whole House would like to join me in welcoming today's employment figures, which show employment at another record high and the lowest unemployment rate in over a decade and wages rising," said the newly appointed Prime Minister.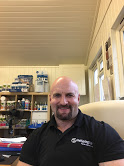 HotSpring Show Team Manager Wayne Hadlington, who helped the pedigree brand secure its best ever sales performance at the HotSpring Milton Keynes showroom, believes hot tub and swim spa dealers should not just be relying on current prosperity in the wet leisure market but should be aiming to generate new customers and extra revenue by increasing exposure for their showrooms by attending local high-profile events.
"Retailers who are not gaining exposure for their showrooms at their local high-profile events are missing out on potential revenue streams further down the line," said Wayne.
"Although the market is very busy at the moment that may not always be the case. Also you don't want to lose prospective customers to your rivals who are out on the road ramping up interest for their dealerships.
"If you are in the business of sales then your success can only be based on providing quality products and the way that you continually increase your new customer numbers.
"You have to get the ball rolling and build momentum in business. There is never going to be a successful outcome in the long run for someone who sits back and hopes that sales will fall into their laps."