Golden Coast acquired by PPG
Wet leisure product distributor and swimming pool specialist Golden Coast has signalled that it will retain its identity and develop further growth potential after being acquired by the Pollet Pool Group.
Following 45 years as an independent distributor in the UK, the Devon-based company is now part of the Pollet Pool Group (PPG). Golden Coast's strength in the industry, combined with its commitment to innovation, knowledge and customer service, is seen as an ideal fit for PPG, which is planning joint operations from two locations in the UK at the start of 2023, with one in Barnstaple and a second in Newbury.
Golden Coast's reputation in the UK has been proclaimed as being 'second to none' and its commitment to customer service is viewed as a reflection of PPG's own commitment to supporting a core market across Europe.
"Our customer service is tailored to each individual customer," said Golden Coast Managing Director Jamie Adams; "Our sales and service teams always put the needs of the customer first.
"From technical product knowledge to marketing know-how, we gladly train our dealers and share knowledge that can contribute to the success of their business."
There is also a remarkable similarity in the way that the two companies are owned and structured. Both Golden Coast and the Pollet Group are family-run businesses, now on their second generation. Both businesses support the impact that new technology can have on the wet leisure industry and share some common suppliers; typically those with innovative products.
Golden Coast is the largest independent UK distributor of swimming pool components and made a successful return to SPATEX 2022 for the 25th live outing of the exhibition with 'Team GC' members sharing expert advice and product knowledge with the trade visitors. Pollet Pool Group consists of nine distribution companies and two manufacturers. Together with the group's current office, PPG UK/Ireland, PPG has now continued its expansion into additional UK operations.
It has been revealed that Golden Coast was chosen by PPG due to its good standing in the industry, access to key product brands, and an industry-leading team of staff who possess the knowledge and technical know-how to run a great business and support their customers. As part of the acquisition announcement it has been reported that Golden Coast will maintain its own identity and continue to trade as Golden Coast, while working together as #TeamGC.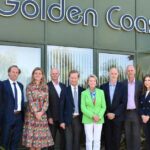 "This is a dynamic move to support future growth!" declared Jamie Adams, pictured with Golden Coast and PPG senior representatives after the acquisition; "Being part of a strong international group allows us to develop and grow both companies, PPG UK/Ireland and Golden Coast."
PPG is part of the Pollet Group, headed by Jacques Pollet and managed by Sofie Pollet, which has offices in 17 countries and is active in three markets: the water treatment sector, the swimming pool world, and the medical industry.
Pollet Water Group brings together 28 companies active in water treatment. Pollet Medical Group consists of six specialised medical oriented companies, while Pollet Pool Group supports the swimming pool construction market with nine distribution companies and two manufacturers.
The Dutch company Aquadeck produces custom-made swimming pool covers. The Czech swimming pool manufacturer Niveko also specialises in customisation with high-end monopools. With branches in Belgium, the Netherlands, Spain, Portugal, the UK, Angola and Denmark, PPG has a strong and internationally extensive distribution network. Now Golden Coast, as well as the Danish company Welldana, have been added to the group.
PPG CEO Jeroen Van Wauwe has highlighted the UK's potential and shared core values that made the acquisition of Golden Coast so attractive to enhance customer support.
"The UK market is different from other European countries," he declared; "Different type of pools are the high runners compared to our European market, the focus is on slightly different products, the legislation differs, etc.
"But the experience of the past years taught us above all that the UK is a market with enormous potential. The dynamic team of PPG UK/Ireland did a great job in a very short time.
"When opportunities arose to work with Golden Coast, we did not hesitate for a second. The company has the typical family character that suits us 100 per cent, but above all they have an excellent reputation in the market and tons of experience.
"Moreover, we share a lot of common suppliers such as EVA, Propulsion, Speck, and PoolCop. Golden Coast brings extra knowledge to the table to offer even better support for all our customers. The core values match 100 per cent with how the PPG companies distinguish themselves from the rest on the mainland.
"PPG UK/Ireland and Golden Coast will be working very closely together. Our aim is to become one joint company with two locations in the UK from the beginning of next year: one in Newbury and one in Barnstaple.
"The concrete set-up will be worked out in the coming months. In the meantime, nothing will change for the customers of both companies."

www.goldenc.com