Great showcase for hot tubs and accessories
Softub and Villeroy & Boch specialist retailer Hot Tubs & Living has provided visitors to the Great Yorkshire Show with multiple options for hot tub hydrotherapy wellness while promoting a dedicated range of gazebo structures.
An extensive range of hot tubs, including the best-selling Patio Hot Tub models and the options from the Softub, including the 2022 WhatSpa? Best Buy Award-winning Resort 300+, and Villeroy & Boch brands, were showcased to visitors at the Great Yorkshire Show along with a new line of wooden bespoke garden structures for hot tubs that are also on display at the Hot Tubs & Living showroom based at the Northminster Business Park on Harwood Road, just off the A1237 in York.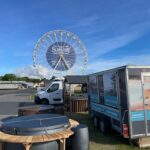 The Great Yorkshire Show outing, pictured, also included promotion of a wide range of hot tub accessories and associated services that followed on from attendance at the Homebuilding and Renovation Show at Sandown Park in Surrey in June, after attending the National Homebuilding and Renovation Show at the NEC in Birmingham earlier this year.
"We love being a part of these events as it gives us the opportunity to meet more people and to answer questions in the flesh, " reported Hot Tubs & Living chief Joe Hutchinson.
As part of summer promotions, WhatSpa? Approved Hot Tubs & Living have been highlighting the newest addition to the Softub stable and the exceptional energy-efficiency of the 'plug and play' Portico that incorporates a hydro massage bench and is equipped with the powerful Poseidon Jet System.
The dealership has also been providing prospective customers with the opportunity to take advantage of a 'Hot Tub & Garden Building Bundle Deal', including £2,000 off the price of the four-seater Ripon from the Patio Hot Tubs range combined with the popular Stillington design from the bespoke garden buildings crafted in York.
"As a pair these are stunning products to transform gardens and are guaranteed to impress," enthused Joe.
Additional installation and repair services have also been highlighted to generate additional revenue for the summer months to provide prospective customers in the domestic and holiday hot tub market with the peace of mind that their hot tubs and garden buildings are always professionally delivered and installed, with the extra repair services that can ensure hot tubs are always running perfectly throughout the year.
"Customer service is very important to us at Hot Tubs & Living," declared Joe, "We always aim to provide a first-class experience. Even after the installation process, our team are always here to offer our expert advice and our repair team is on hand in case any unlikely problems occur.
"Our team at Hot Tubs & Living really go that extra mile to make sure every client is happy."