Growth plans support from digital strategist
Growth plans by Aqua Warehouse Group will be promoted with the help of newly-appointed Digital Strategist Jessica Court.
The Essex-based wet leisure and outdoor living product specialist distributor has appointed Jessica to help develop the Aqua Warehouse Group (AWG) brands, including Vita Spa and Reef Spas hot tub and swim spa models, and support extensive growth plans via its established UK dealer network.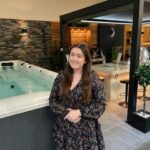 Jessica, pictured, who has previously worked at a digital marketing agency will now focus on SEO and digital growth for the AWG network of retailers.
"I'm truly proud to announce that I've been appointed as Digital Strategist by Aqua Warehouse Group for the UK market," said Jessica.
"I will be running cross-channel campaigns that tie in search, social, and digital PR and have no doubt the team and I will excel at this going forward."
From a single brand in 2003, AWG founder and Managing Director Richard Hart has built up the company's presence in the hot tub and swim spa market as a supplier of multiple brands and is now the largest distributor of Covana Automated Covers, which is sold by more than 150 dealers throughout the U.K.
Further expansion plans, after AWG launched the Remanso Luxury Pergola and Sizzler Outdoor Kitchen brands to its thriving portfolio of outdoor living products last year, will now be promoted by Jessica as part of new cross-channel campaign strategies.
"We are excited to be working with Jessica to help further scale our digital marketing activity, with a focus on creating successful cross-channel campaigns," divulged Richard.
"We already have some great plans in place and feel the partnership with her will help us take these to the next level."