Growth ranking after TV exposure
Superior Wellness has been ranked 30th and classed as one of the UK's fastest-growing businesses on an annual listing of companies founded and run by entrepreneurs after gaining TV exposure for Chill Tubs.
Chesterfield-based Superior Wellness has gained recognition for its business status after a meteoric expansion in the wet leisure market following the latest FEBE for Entrepreneurs by Entrepreneurs Growth 100 ranking, which reveals the UK's fastest-growing privately-owned businesses in the country where the founder or founders are still actively involved.
"We were so proud when we heard the news that Superior Wellness had made it onto Growth 100 list," said Superior Wellness Managing Director Rob Carlin; "We ranked 30th in Britain for the fastest-growing companies privately owned businesses.
"This is such an incredible achievement for us as a company and a real accolade to the team and their hard work.
"I would like to extend my thanks to all the Superior Wellness team and our partner network for making this possible."
Businesses must have sales between £3m and £200m, trading for at least three years and have turned an operating profit in the latest financial year to make it into the top 100 of the list. London (26 per cent), South East (13 per cent), Yorkshire (11 per cent) and Scotland (9 per cent) were the highest on the list regionally of where companies are based.
"We're so excited to publish this year's Growth 100," reported FEBE founder Charlotte Quince.
"So many people think that business founders just 'get lucky' or think of an idea one day and are successful the next. But we know that the journey to success is anything but smooth. The Growth 100 celebrates those who have embraced the entrepreneurial roller coaster and who are now thriving as some of the fastest growing brands in the country."
Former 'Dragon's Den' Dragon and FEBE Growth 100 ambassador Jenny Campbell added: "I'm very proud to be part of something that celebrates and supports the very best British entrepreneurs and their companies. FEBE Growth 100 focuses on true entrepreneurialism.
"Founders are unique: their experiences, their vision and their resilience are unlike anything else. So, we want to celebrate these 'dare to doers' and shine a light on the incredible accomplishments of some of the finest and fastest-growing companies in the country."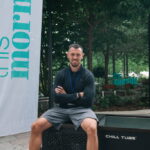 Following Rob Carlin, pictured, commencing his collaboration with TransformNow as part of his participating in a 30-day study to assess the benefits of utilising ice bath technology in his daily routine, Superior Wellness has gained a major boost for its Chill Tubs promotional activities, after recently being showcased on ITV's 'This Morning' show.
In a dedicated feature on ice baths, presenters Holly Willoughby and Dermot O'Leary helped to provide viewers with an insight into the benefits of Chill Tubs. Holly has previous experienced of ice baths after presenting 'Freeze the Fear' last year where a host of stars took on icy challenges under the guidance of master of ice baths Wim Hof.
"It was a great experience to be featured on 'This Morning' and showcase Chill Tubs," revealed Superior Wellness Head of Marketing Sarah Elphick.
"The ITV team looked after us really well."