Growth recognition after devastating damage
Superior Wellness have been recognised as the 14th fastest-growing business in the Midlands and East of England after suffering devastating flooding damage.
While recovering from the recent flooding damage from Storm Babet, the Chesterfield-based company has gained acknowledgement for its regional achievements following Superior Wellness Managing Director Rob Carlin also being named as a top business leader.
The Midlands and East of England recognition is part of the Fast Growth 50 Index for 2023, which identifies the fifty fastest-growing companies across six nations and regions. This achievement underlines Superior Wellness's significant impact on the Midlands and East of England's economy and its capacity for growth and innovation.
"I am delighted that we have been recognised as the 14th fastest-growing business in the Midlands and East of England," reported Rob Carlin, "This is such an incredible achievement for us as a company and a real accolade to the team and their hard work."
Meanwhile, Rob Carlin has also gained personal recognition after being named as one of The LDC Top 50 Most Ambitious Business Leaders for 2023. Created by trusted investment partner LDC – part of Lloyds Banking Group, and supported by The Times, The LDC Top 50 champions the business leaders who are pushing for growth and building successful medium-sized businesses. This year's nominations were of an exceptionally high calibre and the competition was fierce, showcasing the drive and determination that unites business leaders across the UK.
Rob is among the leaders featured in The LDC Top 50 who are growing their businesses at home and overseas, making a positive contribution to society and driving progress against their sustainability goals. They are located throughout the UK and span every sector of the economy. Together, they employ more than 6,700 people and turn over more than £1.2billion.
Since 2011 Rob has propelled Superior Wellness to become one of the leading hot tub companies in the world. Currently, Superior Wellness has a network of 250 plus partners in more than 20 countries globally and the company's sales increased by £48million in 2021 to £57million last year.
"I am delighted to be included in this year's UK Top 50 Most Ambitious Business Leaders for 2023," revealed Rob,
"Under my leadership I have expanded the portfolio of brands, reached out to prospects to grow the network and created a strong presence in the industry. I have also fostered a culture of innovation and creativity within the team.
"I always want to be moving forward and to improve as a company. I'm not happy sitting still."
It is a silver lining from the dark cloud created by Storm Babet that resulted in Superior Wellness having to contend with extreme flooding damage. After 12 hours of heavy rain, the whole Chesterfield site; including the 130,000 square foot warehouse, the 10,000 square foot showroom, offices and on-site gym; was underwater.
Staff had been evacuated immediately and once the storm had passed all employees were informed that the site had been lost. The following morning, the external water had almost drained away and Rob Carlin made a request for volunteers to help try and restore the site.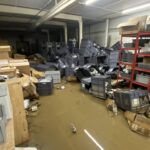 In turn, all employees, friends, and family showed up to help clear the internal water and debris, pictured, and get back the site to a normal state. Bags of cleaning gear, dehumidifiers and wet vacs were piling up at the doors ready to go. After 48 hours of determination, the warehouse was water free, the showroom was looking cleaner and employee offices had been moved upstairs.
Superior Wellness were back to being fully operational on the Monday morning due to all individuals that turned up to help restore the site during the weekend. Unfortunately,  the Superior Wellness showroom required additional work to be fully restored.
"Thank you to every single team member, friends and family members who came to help," said Rob; "The way everyone has come together is truly amazing. Forever grateful! What a team!
"This has 100 per cent made us stronger as a team."