Hero prize from British manufacturer
RotoSpa is appealing for 'heroes' to be nominated as part of a British hot tub prize initiative to seek out a DuraSpa S380 winner as a reward for their endeavours during the Covid-19 lockdown.
The £6,000 DuraSpa model has been lined up from the WhatSpa? Best Buy Award-winning British manufacturer's rugged range of hot tubs, with advanced rotational moulding techniques from its Sutton Coldfield production line in the West Midlands, as part of a UK-wide search to highlight acts of outstanding generosity, compassion, and kindness that are providing a major impact on people's lives at this time.
Coming in at 1990mm x 1990mm x 770mm, the DuraSpa S380 has been manufactured with the unique Roto-therm insulation throughout the cabinet, base, and rear of the shell. It has a filled weight of 2,770kg, with a 1,050 litre water capacity, and the capability to accommodate five to six people comfortably within the design that incorporates a master seat and two lounger seats.
The DuraSpa S380 also incorporates a MoodGlo waterfall feature with backlit LED light, while 38 jets, including 20 Luxury Hydro Jets, are positioned strategically throughout the tub, and there are also 18 multipoint air injector jets for the lower back and feet.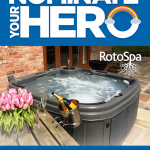 From the start of the initiative WhatSpa? Approved RotoSpa, which is running a 'Holiday at home with a RotoSpa' marketing campaign to consumers this year, has been posting the first batch of nominations online ahead of the prize for the deserving winner being announced on July 31, 2020, after judging by an independent panel of four judges, and anyone wanting to nominate their 'hero' can do so before this date at the web link: www.rotospa.co.uk/nominate-your-hero
"It's a fantastic project to lift the nation's spirits," said Sophie Wiggett of RotoSpa
"We want to lift the nation's spirits with stories of amazing acts of kindness happening every day by extraordinary people.
"Generosity and kindness towards others during these challenging times has been overwhelming and we want to give the nations an opportunity to say a heartfelt thank you to their 'hero'.
"We will be posting the 'Your Hero' entries through social media, national press and radio plus our company blog page daily until the competition ends – making one lucky winner 'Your Hero'."
Ahead of launching its hero prize initiative, RotoSpa was bestowed with a 2020 WhatSpa? Best Buy Award for its all-seater QuatroSpa, which can accommodate six people and is praised in the WhatSpa? Verdict for being 'deceptively spacious'; as well as for the 'plug and play' convenience that allows it to fit through standard doors and gates.