Higher ranking for Superior Wellness
Superior Wellness has gained back-to-back status as one of Europe's fastest growing companies on the FT 1000 with a higher place ranking than the previous listing.
The latest FT-Statista report has highlighted the fastest-growing European companies in the three years to 2021 and Superior Wellness is ranked 323rd, which is up from 348th on the inaugural listing. This time round the Chesterfield-based company has ranked in the top 60 across the UK.
Ranking for European companies is for those that achieved the highest compound annual growth rate in revenue between 2018 and 2021. The minimum average growth rate required to be included on the list was 36.2 per cent — marginally less than the 36.5 per cent last time round.
This latest ranking shows how many businesses thrived despite the pandemic — or, in many cases, because of it. With the demand for hot tubs outstripping supply during 2020 and 2021 Superior Wellness was in a fortunate position to experience a monumental level of growth.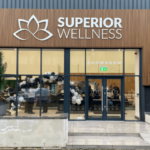 During this period Superior Wellness moved into its new Chesterfield headquarters, in March 2021 and then followed this up, in 2022, by opening a new 10,000 sq. ft showroom, pictured, with training facilities.
The company now works with a global partner network of 250 hot tub retailers and is focusing on its growth across the United States of America with two dedicated sales managers based there.
"We were so proud when we heard the news that Superior Wellness had made it once again onto the fastest-growing companies in Europe list, " said Superior Wellness Managing Director Rob Carlin.
"We ranked 323rd in Europe for the fastest growing companies and also in the top 60 in the UK!
"I would like to extend my thanks to all the Superior Wellness team and our partners for making this possible."