Historic Jacuzzi delivery by helicopter
Jacuzzi retailer Freedom Leisure is preparing to get in a spin and take to the skies for its first ever high-flying helicopter delivery of a hot tub to an apartment building in London.
The Essex-based WhatSpa? Approved dealership run by seasoned hot tub retailer Steve Floyd,  is proving that it will go the extra mile for its customers with the helicopter delivery next week to the 42nd floor of an apartment block overlooking the Olympic Park.
Freedom Leisure Sales Adviser Jamie Markham came up with the plan to use a helicopter for the high rise delivery once the sale of an imposing Jacuzzi J-495, which is the largest model in the Premium Line and therefore perfect for socialising with family and friends, had been agreed.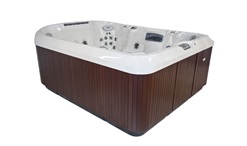 The eight-seater J-495, pictured, comes in at 229 x 279 x 117cm and incorporates 62 Power Pro Jets and the J1000 stereo system. It is the only model from the iconic manufacturer that is equipped with three pumps. These provide the capability to ensure each seat has customisable hydromassage functionality.
"With most jobs to apartment blocks you would have to use a crane but we felt in this case that the only option was to use a helicopter for the deliver," explained Jamie.
"Once the sale was agreed we had to come up with a way to get the J-495 up to the 42nd floor of the apartment block. Although there are a couple of cranes that could do this job we didn't think they would be feasible in this case.
"We've gained clearance from the aviation authority and now the helicopter delivery is just dependent on when we get the right weather next week.
"This is a first ever helicopter delivery for us and our client is excited to be part of this historic installation of a hot tub by Freedom Leisure."