Holiday hot tub awards boost
Holiday park hot tub specialist Park Leisure Solutions Limited has been celebrating the honour of being bestowed with multiple prestigious Best Buy Awards in the first edition of WhatSpa? Holiday Park Special magazine.
Poole-based Park Leisure Solutions has now been given a tremendous boost for its bid to gain a greater share of the hot tub holiday market after gaining WhatSpa? Holiday Park Special Best Buy Award status for the new compact four-seater 202-PKS model, the six-seater 203-PKS model and the imposing eight-seater S106-PKS design.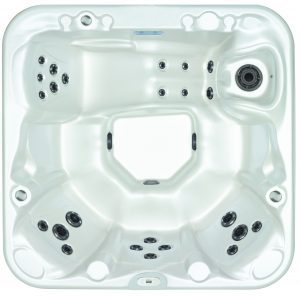 The 202-PKS, pictured, has a 1108 litres capacity and was officially launched during the autumn at the Lawns Show in Cottingham, near Hull; after being designed and manufactured in response to holiday park customer's requests for a hot tub option with a full body lounge seat, coupled with comfortable open seating to accommodate four adults.
These models, with Suresteel galvanized steel frames and Poolspa Rolux thermal retention insulation as standard, have been manufactured in the USA to help holiday park operators to meet the Health and Safety Executive guidance set out in HSG282 in relation to domestic hot tubs being used in a 'business' environment on holiday parks or as part of hire accommodation at holiday cottages and lodges.
After working closely with the American production team and one of the biggest health and safety consultancies in the UK, Park Leisure Solutions has now been rewarded for its commitment to the hot tub holiday market with WhatSpa? Holiday Park Special Best Buy Award status ahead of the 2019 holiday season.
To compliment the award-winning hot tub range that also includes the three-seater 201-PKS and seven-seater 204-PKS, Park Leisure Solutions; which is an approved supplier to Hoseasons and Parkdean Resorts; has also launched the UK-designed Climacube Heat System to help holiday park businesses to run their hot tubs more efficiently and ensure a greater return on investment with enhanced profitability.
With major UK park operators already using or ordering the Climacube Heat System, Park Leisure Solutions believes that the cutting-edge design is set to revolutionise the commercial hot tub and spa industry.
Backed by a worldwide patent, the Climacube Water Heat System works off a standard 13 amp power supply and can either be supplied from new or retro fitted to any contemporary hot tub or spa.
Park Leisure Solutions Limited Managing Director Stuart Mulchay revealed that testing has shown that the Climacube Water Heating System will have a dramatic double impact for the environment and customers by helping hot tub owners to significantly cut their running costs thanks to its advanced energy-efficient capabilities.
He reported that in test results against current conventional heating systems the Climacube saved on average just under 60 per cent less time to heat up a hot tub and an 85.7 per cent reduction in energy cost.
"Our design offers the very latest energy saving heat technology," said Stuart; "Dramatically reducing running costs, reducing the carbon footprint and enabling customers to use their hot tubs and spas all year round, at the desired temperature without the concern of cost."
www.parkleisuresolutions.co.uk