Hot date for Jacuzzi Leeds Wellness World!
Jacuzzi Spa & Bath Ltd celebrated the eve of Valentines Day with a celebration bash to launch the Jacuzzi Wellness World programme from its swish Hot Tub & Wellness showroom and HQ in the heart of Leeds.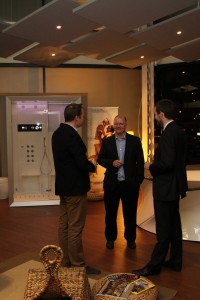 Jacuzzi Wellness World is a brand new concept that expresses itself in a collection of unique spa, shower, sauna and steam experiences to be enjoyed individually at home or in a Jacuzzi Original Wellness Hotel. Through this new programme, Jacuzzi helps RIBA hydrotherapy accredited hotels to create 'wellness destinations', with credibility and strength, which deliver a unique and memorable experience for guests.
Hoteliers and architects enjoyed the evening to explore the stunning range of products featured in the new 300 square metre showroom, equipped with 15 Jacuzzi hot tubs, two whirlpool baths and two Wellness Centres, including the stunning new Sasha range of sauna, shower and steam products.
Marketing Manager, Natasha McCreesh enthused,"The showroom is now finally finished and we're overwhelmed with the feedback both from consumer visitors and members of the hotel trade.
"This new Leeds showroom is the largest display of Jacuzzi products in Europe and it's been designed to be the perfect place for architects to bring a client, when they are considering a wellness facility either at home, or as part of a hotel development project."
"We're really pleased with the positive feedback from the launch evening and are now looking forward to our Annual Hot Tub Retailer Conference and Retailer Awards Dinner will be hosted here and at the Oulton Hall Hotel on April 7th," revealed Natasha.