Hot mental health awareness promotion
Hot tub and swim spa franchise network Award Leisure is promoting Mental Health Awareness Week by highlighting that regular hot tub sessions can provide a natural way to improve wellbeing.
This is the 22nd year of Mental Health Awareness Week and this edition's theme, running from May 9 to 15, is 'Loneliness'. As part of Award Leisure's promotional boost for the initiative, the franchise network is also highlighting that hot tubs help to increase communication strategies between family members, and that it is crucial to avoid the pitfalls of purchasing a poor quality hot tub.
"Hot tubs bring family and friends together," revealed Award Leisure National Sales Manager Charlotte Anthony; "By having a space to escape to with no distractions, we can re-connect with loved ones and create long-lasting memories.
"Soaking in a hot tub regularly improves your overall health and wellbeing, But it is so important that you choose the right hot tub so you can experience these benefits.
"A hot tub that doesn't work properly, requires constant repairs, or uses energy inadequately will only add more stress to your life. We only work with reputable manufacturers with exceptional warranties and guarantees."
Award Leisure is also drawing attention to the fact that the network's exclusive British Hot Tubs range of hot tubs and the iconic Beachcomber hot tubs, which have gained 2022 WhatSpa? Best Buy Award acclaim, provide advance hydrotherapy massage capability and this links in with research that has shown serotonin and dopamine levels, the body's 'happy hormones', increase after massage to boost mental health wellness.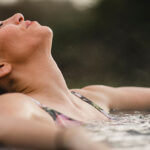 "Serotonin is associated with feelings of happiness, focus, and calm, whilst dopamine is associated with feelings of rewards, motivation and being productive," explains Charlotte.
"Being submerged in warm water is also therapeutic, as it triggers the release of endorphins into your blood. Endorphins are your body's natural pain reliever and increase feelings of relaxation.
"Our hot tubs are designed with different massage types in each seat, using traditional techniques for healing and relaxation. We know that precisely locating the correct size jet and massaging action where it is most effective is key to relax the body and mind."
To enhance the choice of products this year for prospective customers in St Albans, Award Leisure has moved its store to bigger and newer premises at the front of the retail park location where the showroom was previously based.
"This is so our customers can enjoy a larger range of products on display," reported Charlotte.