Hot tub accessories specialist takes cover
Hot tub product specialist Aqua Spa Supplies is ensuring it has extra swim spa cover options for its trade customers with the introduction of the End2End design to a growing stable of wet leisure accessories.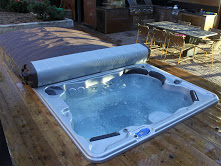 Aqua Spa Supplies, which is a division of Aqua Warehouse Group, officially launched the End2End product line at the UK Pool & Spa Expo in November after promoting the Covana Legend CS 1000 at the third edition of the exhibition earlier this year. Both cover systems will also be promoted on the Aqua Spa Supplies stand at SPATEX 2016 at the Ricoh Arena in Coventry, from January 31 to February 2.
Dubbed as 'the best swim spa cover you will ever own', the one-piece End2End cover design ensures that there is a complete seal on top of the swim spa or in-ground pool.
Manufactured in the USA and custom-built for swim spas up to 20ft, the rugged End2End covers have steel frames fitted into their thick and durable cover; which are lighter than traditional swim spa covers and flexible enough to enable one person to easily roll it off partially or fully.
Thanks to the use of closed cell foam insulation, the End2End covers will not absorb water and are extremely effective for maintaining heat retention. The beauty of the design is that it can be conveniently rolled back to just expose the swimming area or seats of a swim spa.
"After doing some research about the End2End covers we decided they would be an ideal addition to the other hot tub and swim spa cover options, including the Covana Legend CS 1000,  that we have also launched this year for our trade customers," reported Aqua Spa Supplies chief Richard Hart.
The Covana Legend CS 1000, which is featured in the Hot Products section of the 2015 edition of WhatSwimSpa? magazine, is a fully-automated cover system that elevates and lowers with the simple turn of a safety key switch to help ensure access to the swim spa is easily, while also being extremely secure at all times.
As well as ensuring the task of lifting the cover is not a daunting one, Covana's weather-sealing system and high-insulating value, also ensure optimum heat retention to save on water, energy, and maintenance products.
Aqua Spa Supplies will be providing details about the End2End and Covana Legend CS 1000 swim spa designs and other hot tub and swim spa cover options, along with a comprehensive range of wet leisure accessories and products, on Stand C66 at SPATEX 2016.
Registration for the 'sold out' 20th anniversary exhibition of SPATEX is free and open now at www.spatex.co.uk for the three-day exhibition. If you require further information then contact the SPATEX team via email: helen@spatex.co.uk or michele@spatex.co.uk or directly by telephone on +44 (0) 1264 358558.