Hot tub and pool extravaganza countdown
SPATEX organisers have fired the starter's gun to mark the 20 week countdown to the 20th anniversary edition of the hot tub and pool extravaganza ahead of a hat-trick of appearances at the Ricoh Arena.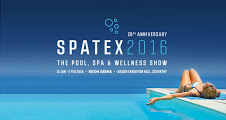 With over a hundred exhibitors already lined up for the three-day spectacular anniversary showcase, running from Sunday, January 31, to Tuesday, February 2, the SPATEX team has launched the 20 week build up promotion to ensure additional anticipation within the industry for the exhibition in Coventry, which has once again attracted the leading lights of the UK's thriving wet leisure industry.
These include hot tub and pool product powerhouse Certikin International, which is a steadfastly loyal SPATEX supporter and exclusive distributor of the Caldera Spas and Fantasy Spas hot tub stable from Watkins Manufacturing. It also has an extensive pool product range that annually features on the company's exhibition stands at SPATEX and is currently being promoted in the inaugural issue of WhatSwimmingPool? including the Endless Summer telescopic enclosures; and one-piece Riviera fiberglass pool that is available in 22 sizes and shapes.
The Caldera Spas brand and Certikin's network of UK dealerships have been boosted this summer with further acclaim for the best-selling six-seater Marino model from the Vacanza range, which includes a lounge seat and comes in at 213 x 213 x 91cm, after it has achieved another WhatSpa? Best Buy Award in the £4,000 to £5,999 price category.
While highlighting the Marino's 'beautifully contoured lounge seat' and 'stylish ergonomically sculpted shell and roomy no-slip footwell' the WhatSpa? Verdict also states: 'The Marino oozes quality. Finishing touches like the Acquarella waterfall ensure a sensory experience that is guaranteed to relax!'
Once again the imposing eight seater Caldera Spas Cantabria model, coming in at 274 x 231 x 97cm, has also gained WhatSpa? Best Buy Award recognition in the £12,000+ price band of the consumer magazine to add to its previous Best Buy accolades.
Proclaimed in the WhatSpa? Verdict as 'arguably one of the best eight-seater spas on the planet' it also provides dealers with a major boost for their promotion of the Utopia Series model with the verdict its lounge seat that states that it is 'one of the most soothing lounger seats on the market equipped with the amazing UltraMasseuse system'.
Exclusively loyal exhibitor Spa Crest Europe, which launched its distribution deal for Tuff Spas for UK-based  retailers with a display of a selection of models at SPATEX this year, will also be continuing its successive SPATEX appearances run with further WhatSpa? Best Buy Award credits to build on, including an inaugural award for the Tuff Spas TT650.
Coming in at 196 x 196 x 75cm, the five-seater TT650 is the largest spa in the Arizona-based manufacturer's stable and includes a lounge seat that has been praised in the WhatSpa? Verdict. It also highlights the deep multi-level seating and optional 'Tuff Top' upgrade that makes it the only roto-moulded spa on the market to provide this hard cover choice for customers.
Meanwhile Spa Crest Europe's dealers have gained a marketing boost for the second half of the year with a WhatSpa? Best Buy Award in the £8,000 to £11,999 price category for the five-seater Hatteras from Spa Crest's mid-range Coastal Series, which comes in at 234 x 234 x 86cm and has been manufactured utilising carbon fibre reinforcement that was introduced in 2013 and promoted heavily at SPATEX last year.
The two hot tub distribution companies will be joined by a host of specialist wet leisure product supply companies including Aqua Spa Supplies, Golden Coast, and SCP, during the 20th anniversary edition of SPATEX, for which organiser Michele Bridle has officially fired the 20 week 'starter's gun' countdown this week.
Michele has highlighted that SPATEX 2016 will be hosting the industry's most exciting anniversary networking party, following notification of major improvements for the venue site to increase further demand for the remaining spaces for potential exhibitors. Michele has also indicated that vistors will be able to take advantage of a double programme of seminars and workshops.
"The starter's gun has fired, the clock is ticking and the countdown has started to what promises to be an industry-wide spectacular," declared Michele.
"Attracting over a hundred high calibre exhibitors from home and abroad; the special 20th Anniversary edition of SPATEX 2016 at the Jaguar Exhibition Hall at Coventry's Ricoh Arena will be featuring the UK's largest display of wet leisure products.
"We will also be staging a double programme of seminars and workshops, and hosting the Industry's most exciting Anniversary networking party …the very best is yet to come!"
Along with additional members of the SPATEX team, Michele will be attending Leisure Industry Week (LIW) at the Birmingham NEC, on September 22 and 23 to promote SPATEX 2016; before traveling in October to Piscine Global in Barcelona, from October 13 to 16; and then Aquanale in Cologne, from October 27 to 30.
To book exhibitor stand space for the 20th Anniversary SPATEX 2016 exhibition contact the SPATEX team via email: helen@spatex.co.uk or michele@spatex.co.uk or telephone +44 (0) 1264 358558.