Hot tub and pool showcase debuts
SPATEX organisers have announced a new batch of exhibitors who will be making their debuts during the 20th anniversary of the hot tub and pool showcase at Coventry's Ricoh Arena in the New Year.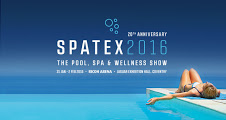 The busy SPATEX team members have reported that over 90 companies have signed up to participate in the 2016 wet leisure and wellness extravaganza from January 31 to February 2 in the Jaguar Exhibition Hall and, with almost three months still to go, they believe this number is expected to rise to over a hundred.
This growing band of exhibitors already includes SPATEX stalwarts and leading hot tub and swim spa product specialists: Astral, Aqua Spa Supplies, Certikin, Elite Spas, Hydrospares, Passion Spas, Plastica, Pollet Pool Group, Procopi, SCP, and Spa Crest.
New companies never seen before at SPATEX include GMT Spas International. The company's representatives will also be joined for the first time at the exhibition by Behncke GmbH, Brio, Cyrano Ltd, PHNIX Eco-Energy Solution Ltd, International Business Development, Specialist Toughened Glass Ltd, and Stoneworld.
Returning to the SPATEX exhibition format but making their debuts at the new host venue home at the Ricoh Arena, after previously showcasing their products and services at the annual SPATEX event in Brighton, are Total Water Products/Lo-Chlor, ProMinent Fluid Controls, JetStream UK Ltd, Sterling Hydrotech, and JAK.
"We can justifiably claim to be representative of the whole industry," proclaimed SPATEX organiser Michele Bridle.
In addition, Michele has reported that 20 new workshops have been organised by the Institute of Swimming Pool Engineers (ISPE) for the three days of the exhibition that is set to see a repeat of the second seminar format that proved popular at this year's event. Attendees at all of ISPE Workshops will be awarded with a CPD point on their Certificates of Attendance.
"We're repeating the seminar success of our previous show by holding a second seminar programme during our 20th anniversary exhibition," explained Michele.
"This will include a 'not to be missed' seminar on new ways to market your company on the Sunday afternoon of the show given by two top marketing experts; as well as an important seminar for pool and spa plant operators by the Swimming Teachers' Association (STA) on Monday afternoon.
"All visitors and exhibitors will then be warmly invited for free drinks and delicious nibbles to the SPATEX 2016 20th Anniversary networking themed party at the Ricoh Arena's Bar 87, for which we will release further details ahead of the event, after the show closes for the day on Monday.
"On Tuesday, February 2, the third and final day of SPATEX, the Pool Water Treatment Advisory Group (PWTAG) will also be holding a seminar focusing on the latest guidelines for spa and hydrotherapy pools."
Registration is free and open now at www.spatex.co.uk or if you wish to reserve stand space for SPATEX 2016 then contact the SPATEX team via email: helen@spatex.co.uk or michele@spatex.co.uk or directly by telephone on +44 (0) 1264 358558.