Hot tub and pool showcase rebranded
SPATEX organisers have launched a rebranding initiative to target greater numbers of hot tub and wet leisure visitors for the 20th anniversary of the exhibition.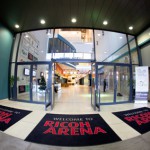 The launch of a new logo for the exhibition coincides with the impending launch of a new multi-lingual SPATEX website that has also been revamped to promote the special anniversary of the event, which will be running for the third time at the Ricoh Arena from January 31 February 2.
Working closely with ASP, an award-winning design agency based in London, a full and detailed review of the SPATEX brand has been undertaken. SPATEX organiser Michele Bridle is delighted with the results and believes the move will now enhance the exhibition's appeal.
Michele revealed that the time was right to revamp the SPATEX logo and general image, which has remained the same for a long period, ahead of the 20th anniversary milestone. It has previously helped to promote the exhibition at its former south coast venue in Brighton and the past two events at the Jaguar Exhibition Hall at the Ricoh Arena in Coventry.
"In recognition of the UK's number one pool and spa exhibition turning 20 in 2016, SPATEX has set about refreshing its brand image," reported SPATEX organizer Michele Bridle.
"The SPATEX logo and general image has remained the same for a while now. With the show moving venues to Coventry's Ricoh Arena and becoming broader in its wet leisure appeal we feel our milestone 20th anniversary is an excellent opportunity to present a bright new image to our customers.
"We have an extensive international and domestic audience and this rebranding better conveys our leading UK status. We are convinced the investment will deliver even greater numbers of exhibitors and visitors."
To book exhibitor stand space for the 20th Anniversary SPATEX 2016 exhibition contact the SPATEX team via email: helen@spatex.co.uk or michele@spatex.co.uk or telephone +44 (0) 1264 358558.