Hot tub and pool showcase venue delight
SPATEX organisers have welcomed major improvements for the venue site that will host the eagerly anticipated 20th anniversary edition of the hot tub and pool showcase when it returns for a third appearance in Coventry.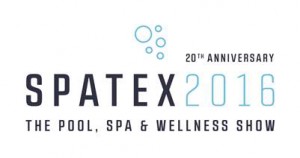 Following record exhibitor pre-sales and a rebranding initiative, including a website revamp launch, the organising team is delighted to report that the Ricoh Arena is to gain an extensive facelift in time for the 2016 edition of SPATEX, running from Sunday, January 31, to Tuesday 2nd February 2, which is now being proclaimed as the 'pool, spa and wellness show' within the latest logo and promotional campaign.
An on-site railway station, with direct links to Coventry and Nuneaton railway stations, will shortly be opened; and the Ricoh's rugby union residents Wasps, who will be taking on Samoa at the stadium tomorrow, Saturday, September 5, have also laid out plans for the Ricoh Arena. These include a major upgrade of the stadium's hotel to give visitors a total of five bars, plus three restaurants on-site and over 20 food and beverage outlets.
"We aim to establish the Ricoh Arena as the UK's leading venue for sport, business and entertainment," said Wasps Group Chief Executive Officer David Armstrong.
With less than five months remaining until the Jaguar Exhibition Hall opens its doors for the 20th anniversary of SPATEX, organiser Michele Bridle believes the news of the Ricoh Arena site enhancements is perfectly timed to increase additional interest in the special edition of the exhibition.
It comes hot on the heals of the launch of a new SPATEX logo for the exhibition and an enhanced multi-lingual website that has also been modernised to increase promotion and user-friendly features for the site's visitors.
"SPATEX is delighted that Wasps recently announced a series of planned improvements for the Ricoh Arena," said Michele. 
"Located within two hours of 75 per cent of the population and offering 2,000 free on-site car parking spaces, the Ricoh Arena is a superb venue, as the last two SPATEX exhibitions have amply demonstrated. Any companies wishing to exhibit should book now to avoid disappointment!"
Michele and the SPATEX team are currently preparing to attend Leisure Industry Week (LIW) later this month at the Birmingham NEC, on September 22 and 23 to enhance promotion of SPATEX 2016; before heading to Barcelona for Piscine Global from October 13 to 16; and then Cologne for Aquanale from October 27 to 30.
To book exhibitor stand space for the 20th Anniversary SPATEX 2016 exhibition contact the SPATEX team via email: helen@spatex.co.uk or michele@spatex.co.uk or telephone +44 (0) 1264 358558.