Hot Tub Barn couple celebrating 20th anniversary
Hot Tub Barn husband and wife team Huw and Sarah Chivers are celebrating their 20th anniversary in the wet leisure industry and the fact that they now have the longest running hot tub showroom in the UK.
Huw and Sarah, who run three award-winning Hot Tub Barn hot tub and swim spa showrooms including the south east's premier showroom at a mega site location in Sevenoaks where five Riptide swim spas are on display that Huw helped to design, and their professional team members earned the prestigious 'Retailer of the Year Award' for sales achievements in 2014 from HotSpring that has received 2016 WhatSpa? Best Buy Awards for the Hot Spot SX, HotSpring Limelight Flair, and HotSpring Highlife Envoy NXT models.
"It has been fun and certainly a roller coaster ride during the past 20 years," declared Huw. "I believe, though, that the fact that we've kept with the same market-leading brand of hot tubs all these years has been a big factor in our success.
"While many retailers have chosen to constantly swap and change their hot tub brands we've been loyal to the HotSpring range. I think that this has helped us to promote the brand very confidently to our customers without them having to worry about us changing to another supplier in the future."
In the past couple of years the Hot Tub Barn team has played April Fool's on the industry and this time round they announced on the company's website that they had taken on a 'New Delivery Vehicle for Greener Foot Print'.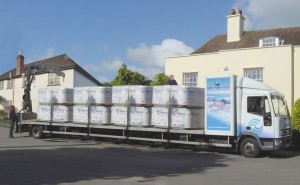 As part of the April Fool's ploy, the team claimed to have been so busy delivering new HotSpring spas and Riptide pools that they had invested in a new hybrid electric Mercedes 40ft Hiab equipped truck, pictured, to deliver eight hot tubs to their new owners.
Although the online article stated: 'Dave and Will our delivery team can now deliver and install up to 8 hot tubs a day, which reduces our fuel usage and helps the environment. This will mean even more savings on new hot tubs and pools with even better part-exchange prices', the fact that there was an April 1 date for the company's news entry was the clue that it was an April Fool's marketing strategy.
Over the years Huw has been instrumental in raising the profile of HotSpring in the British market and has become well known throughout the industry. He has also been featured regularly in WhatSpa? and also in WhatSwimSpa? in an effort to advocate the showroom route to successful hot tub and swim spa purchasing. As part of this campaign he has created infamous footage that has become a visual warning to make consumers aware of the perils of purchasing wet leisure products from online 'web shops'.
He has posted a horror story online on YouTube to highlight the case of a new owner who discovered that they had fallen foul of a useless online purchase that had to be cut up and carried through the house because the insurance company would not authorise a crane to lift it over.
In the latest edition of WhatSwimSpa? , which has bestowed a hat-trick of Best Buy Awards to the Riptide Pools Oceana, Riptide Pools Poseidon and Riptide Pools Manta Super Pro, Huw is among a number of leading showroom specialists featured in the Net Perils section that are highlighting the dangers of purchasing hot tubs or swim spas online; following the demise of online hot tub retailing outfit Danz Spas that has left new customers having to seek refunds from their credit card suppliers.
"It is much safer to take the tried and tested route of visiting a hot tub or swim spa showroom with a good reputation," declared Huw; "You don't want to end up with a pile of junk sitting in your back garden."
As well as being heavily involved with hot tub sales during the past 20 years, Huw branched out into swim spa sales 14 years ago with the Rapid River swim spa brand that was manufactured in Chelmsford. He has since been responsible for the design and launch of its Riptide swim spa brand successor.
After promoting the Riptide brand at SPATEX and at the Piscina exhibition in Barcelona Huw has helped the nationwide Riptide dealership network to flourish. It is now providing specialist showroom advice for the latest swim spas and exercise pools in the brand's range, which includes unique shell designs and swim power systems that ensure every size, swimming level and water capacity requirement can be matched by a particular model. Even families with canine members are being catered for.
Among the wide choice of Riptide designs that have been launched in recent years has been a Doggy Swim model that provides dog owners with the capability to allow their pet to exercise in warm water; while a specialist Kiddy Swim model has also been created for families with very young children who require a diminutive design that is perfect for installing in small areas of their gardens.
A new version of the Riptide Manta in 4.9m, 5.9m and 6.9m options and a choice of three different jet configurations, has also been launched to the 2016 range that includes the Riptide Nautilus, which is part of a project installation that is featured in the latest edition of WhatSwimSpa? magazine.
"In 2002 we took the decision to get into swim spas but most swim spa manufacturers wanted us to sell their hot tubs as well," reported Huw, who is a keen swimmer and was able to swim a mile by the time he was ten-years-old.
"We didn't want to go down that route because we were very satisfied with our relationship with HotSpring at the time so we decided to create our own range of specialists swim spas for the British market.
"That decision resulted in the RapidRiver brand being launched in Chelmsford with the use of pool shells from Rio Plastics. This brand ran for a decade and was then replaced by our Riptide range that is proving to be very successful and has resulted in us building up a network of dedicated British dealers.
"We've also been doing very well in Belgium, Scandinavia and Austria and have commenced distribution to the USA.
"In our experience more and more families are wanting to invest in a swim spa to enhance their homes and then they advocate how good they are to other family members and their friends."
David Davies and his wife Donna have praised the Hot Tub Barn team following their purchase of a Riptide Nautilus, which comes in at 5.9m x 1.6m x 2.25m and is featured as part of a successful installation project in the 2016 edition of WhatSwimSpa?
After conducting research of the swim spa market and considered several options the couple opted to purchase from Hot Tub Barn and are now delighted that they made this decision. David believes the professional service he received from Hot Tub Barn has helped him to gain not only an fabulous investment of a pedigree swim spa but also exemplary customer care.
"From the moment we first visited the Hot Tub Barn showroom we were impressed with how well we were treated," divulged David. "It has been very refreshing to get such a high level of service.
"From the initial sales process to advice about the installation and delivery to the final commissioning of the swim spa, we've been given fantastic levels of support.
"Some companies would just want to take your money and leave you to it but that's certainly not been the case with our relationship with Hot Tub Barn and our experience of dealing with their brilliant team. They've been extremely helpful."