Hot tub brand launches Vivia
Iconic hot tub brand Villeroy & Boch has launched the Vivia collection to provide homeowners with the capability to enjoy sauna wellness in the privacy of their own bathroom.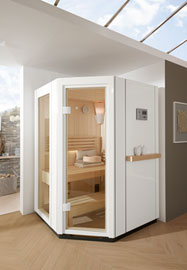 The home saunas in the Vivia SA-Line from Villeroy & Boch, which is featured in the 'Sauna and Steam' section in the inaugural edition of WhatSwimmingPool?, combine technology with design and high-quality materials and are available in different sizes. The result is a complete bathroom in which, in addition to daily washing and bodycare, owners can also experience wellness at home.
Thanks to a simple installation system and ready to use pre-installed sizes, the home sauna system can be quickly installed in the correct location. There is a choice of two sizes, 110 x 140 cm and 140 x 140 cm for up to three people.
In the modern exterior colour Glossy White, the home sauna harmonises perfectly with the colours and design of the Vivia furniture series. In addition to the classic home sauna function, the 140 x 140 cm model is also equipped with an infrared function.
Villeroy & Boch Global PR Manager Katrin May is spearheading the marketing campaign for the space-saving sauna concept. It follows on from the German company's high-profile promotion of the latest editions to its hot tub stable, which have been awarded with 2015 WhatSpa? Best Buys for the five-seater A6L Silver/White, including lounge seat, in the £8,000 to £11,999 price bracket; and the five-seater Just Silence model in the £12,000+ price category.
Katrin revealed that in the past the limited space in most people's bathrooms has prevented the installation of saunas. She now believes that the latest Villeroy & Boch product line will boost the opportunities for dedicated Vivia retailers looking to attract customers seeking to obtain this advanced sauna wellness for their bathroom.
"Only very few people currently have enough space for a home sauna in their bathroom," said Katrin; "This is why home saunas are often found in the basement.
"With the integration of a space-saving home sauna in the bathroom, Villeroy & Boch is setting a new standard for comfortable retreat baths and thus meets requirements with regard to functionality and comfort.
"The result is a complete bathroom in which, in addition to daily washing and body care, one can also experience wellness at home."