Hot Tub Britain stars smash retailing record
Hot Tub Superstore are in talks to film a TV series after the stars of ITV's 'Hot Tub Britain' gained a staggering 450 new customers during the month that the programme was screened, ahead of achieving record-breaking annual sales.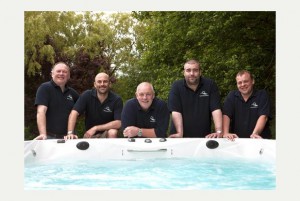 Due to the documentary's success in helping smash previous best retailing figures, negotiations are currently taking place with the History Channel for a further focus on the family-run company; run by Dennis Holmes (pictured centre) and his Hot Tub Superstore crew, including his son Dan and son-in-law Ross Phillipson.
The Blackpool-based volume importing specialist outfit, whose official trading name is Bluewave Spas Ltd, got their own and the majority of the hot tub market's cash tills ringing and retailer's tongues wagging throughout the autumn and winter after the high-profile Hot Tub Britain documentary was shown on our TV screens in September.
Basking in the trade and national online and print media attention, plus additional exposure in TV listings magazines, there has been an off the chart sales surge at the 26,000sqft Hot Tub Superstore showroom at the Trident Business Centre on Amy Johnson Way with a minimum of 150 USA-manufactured hot tubs in stock, including the 'plug and play' Rio, Cyprus, Antigua and G2 options as well as the popular Evolution models.
Thanks to the company being the focus of many column inches highlighting hot tubs as being the 'must-have garden accessory' it has resulted in 2014 easily topping the record-breaking annual sales chart that covers a decade of growth for the multi-million pound business, which provides interest free finance and free UK mainland delivery on all of its hot tub models.
"It's been phenomenal and it's obviously been a record-breaking year of sales for us," said Ross Phillipson, pictured second left.
"This just goes to show what can be achieved when you go truly public with your business and give it this kind of exposure.
"You can't get better than prime time TV. Negotiations are now taking place with the History Channel to film a follow-on TV series."
Ross believes that if the History Channel does give the green light there is certainly plenty of scope for a TV series as round 75 hours of filming; including 20 hours of footage from a trip to the USA; was cut during the Hot Tub Britain editing process by Shiver, ITV's factual division.
In the end the documentary was condensed into the 60-minute programme that has provided a mainstream media boost for the wet leisure industry, which was commissioned by Director of Factual for ITV Richard Klein over a year ago in November 2013.
"It was not just a simple documentary about the spa game but more about us as individuals and how we interacted," said Ross; "I think that they had to do it like that to make it interesting for TV.
"I know it focussed a lot on our sales and delivery process but I think it illustrated that we are real people living in the real world and selling hot tubs to people from all walks of life.
"There was over 70 hours of footage that wasn't shown of us, such as going to the USA and visiting exhibitions, so it shows there is scope for a TV series.
"The feedback we've received has been very positive overall. You are always going to get some form of criticism if you put yourself in this kind of spotlight, but I would say that nine out of ten people we've spoken to about the programme have been really positive towards us.
"We had 90 online applications processed for finance while the programme was being shown and 75,000 hits on our website. The surge in demand for our hot tubs went off the scale and we sold 450 units in September alone as a result. No one in the world is selling these levels of hot tub numbers in just a month.
"Overall, I think it worked very well and it has been a brilliant springboard for us to progress even further in the future. We have been increasing our growth for a decade now and nothing has changed in our strategy to keep on expanding. This golden opportunity has been the icing on the cake for us.
"We were already doing well before the documentary was shown but it has since allowed us to turbo charge into an unbelievable record-breaking sales year with incredible figures throughout the autumn and winter. Long may it continue!"