Golden Coast is providing hot tub care products to help retailers shine this spring with a host of options to offer customers from the flourishing Essentials range, including SpaGlo and the Paradise Spa Vac.
The Devon-based wet leisure product supply specialist to the trade understands that hot tubs need to be kept in tip-top condition to provide maximum enjoyment. So the family-run company is ramping up its promotion for its Essentials range by highlighting that it has an answer to every hot tub care need, both practical and recreational, to meet every budget.
Exclusive to Golden Coast, SpaGlo cleans, shines and protects the finish of a hot tub shell and cover, as well as restoring finishes which are looking faded and dull.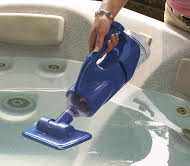 The Paradise Spa Vac uses a simple siphon action to pick up dirt and debris without the need for batteries or hoses. With its telescopic aluminium pole it will reach as far as seven feet.
To help hot tub owners overcome damaged cover clips, EasyKlip provides a reliable remedy. It is described as 'the world's strongest tarp clip' and provides an affordable temporary solution to keep protective covers securely in place before a replacement is purchased.
Golden Coast's already extensive range of cover lifters, meanwhile, has a new addition that has been launched this year in the form of the Cover EX.
Quick and easy to install, and with an entirely aluminium and powder-coated construction, Cover EX fits most square or rectangular hot tubs. It has been designed to be ideal for hot tubs in tight spaces, requiring just 12 inches of clearance.
In the event of leaks, there is an ideal solution in the form of the SpaFix'r leak sealant. It is suitable for use in any kind of spa or hot tub, plus this leak sealant is also effective at dealing with minor pipework leaks.
www.goldenc.co