Hot tub trade supply specialist company Aqua Spa Supplies has launched a new wine cooler holder into its blossoming wet leisure accessories range called the 'Grip O Cooler'.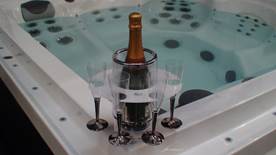 Designed to keep Champagne and wine bottles cool, as well as up to four glasses secure, the Grip-O Cooler is a large bottle holder and insulator with eight suction feet. These are designed to stick to smooth surfaces such as fibreglass gelcoat, hot tubs, plexiglass, glass, metal or any smooth non-porous surface.
The glass holder simply slips over the top of the Grip-O Cooler to hold four stem glasses. For best results, users should ensure that surface is clean before attaching the Grip O Cooler. Then it is just a case of giving the Grip-O Cooler a push down to make it stick! To remove the Grip O Cooler, users then pull it sideways from the top.
This latest addition now increases the product range choice, which was promoted during two successful debut appearances by Aqua Spa Supplies as an exhibitor at the UK Pool & Spa Expo and SPATEX in January and February respectively, for customers who can gain next day free delivery for orders over £50.
Aqua Spa Supplies chief Richard Hart, who distributes the Vita Spa and L.A Spas hot tubs and swim spas ranges in the UK as part of his Aqua Warehouse Group operation, believes the Grip O Cooler will be a hot product for his flourishing Aqua Spa Supplies division this year.
"This stick on Grip O Cooler wine cooler is ideal for hot tubs," said Richard; "It holds your Champagne or wine bottle plus four glasses.
"It looks great and works great!"