Hot tub dealer marking tenth anniversary
Artesian Spas hot tub dealer and BISHTA Gold Award-winning company North Spas is marking its tenth anniversary with special offers for customers at its showroom during the May Bank Holiday weekend.
North Spas is run by husband and wife team David and Heather Mason and their son Ryan is a fully-qualified electrician whose involvement in an installation of a limited edition Artesian Spas Special Edition 735L model helped to land the coveted BISHTA Gold Award in the 'Residential Hot Tubs £14,000 and Over' category during the 2016 British Pool & Hot Tub Awards Gala Evening and Presentation Ceremony at the Ricoh Arena in Coventry.
It was the first time the dealership, which was established in 2006 and has two showrooms at the Dobbies Garden World, Durham Road, in Birtley; and the Dobbies Garden World, Street House Farm, in Ponteland; had entered the awards. The decision paid off, though, as it resulted in the judges voting the 735 project to be worthy of the Gold accolade ahead of the Silver Award entry from Jacuzzi dealer Euphoria Lifestyle and Bronze-winning installation from fellow Artesian Spas dealer Complete Spas, who have both achieved BISHTA success at previous awards ceremonies.
As part of the tenth anniversary celebrations this weekend anyone purchasing one of the Artesian 735L models, which incorporates a lounger within its six-seating options and comes in at 214 x 214 x 91cm, is going to be given a £500 discount. This special promotion will be among a number of tenth anniversary deals for prospective customers to take advantage of throughout the Bank Holiday weekend, including 15 per cent off water treatment products.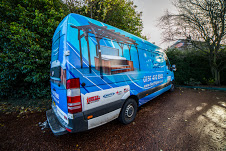 North Spas Marketing Manager Samantha Murphy has revealed that the award-winning hot tub installation has now become the dealership's flagship project that is currently featured on the company's delivery vans, pictured, as part of the BISHTA Gold Award-winning promotion.
"We are very proud of our Gold BISHTA Award for the Artesian Spas 735 limited edition model, which we've been promoting heavily," said North Spas Marketing Manager Samantha Murphy. "It is featured on our North Spas vans and has gained a lot of positive feedback.
"So we'll be offering this particular model at a discounted price to our customers who purchase it as part of our tenth anniversary celebrations this weekend during the May Bank Holiday."
With the first quarter of the year completed, Samantha reported that the Artesian Spas sales are booming compared to last year. Demand for products from the USA production line of May Manufacturing and new customer figures have so far already surpassing those achieve in the opening months of 2015.
"We've started really well this year and during the past four months we've overtaken the 2015 sales we achieved at the start of last year," said Samantha.