Hot tub giant marking ATV anniversary
Marquis will be aiming to gain additional hot tub and swim spa market share on home soil at the International Pool Spa Patio Expo after increasing its legion of European dealers this year.
Hot on the heals of an appearance at Aquanale in Germany, Marquis is now returning to the wet leisure showcase at the Mandalay Bay Convention Centre in Las Vegas, from November 10 to November 12, to promote its full range of hot tub products, including the WhatSpa? Best Buy Award-winning four-seater Spirit and five-seater Ultimate Epic. The iconic manufacturer will also celebrate the first anniversary of the launch of its innovative Aquatic Training Vessel (ATV) design; which gained its first WhatSwimSpa? Best Buy Award in the 2015 edition of the consumer magazine.
The ATV, which comes in at 168.5" x 89.5" x 56", made a big impact last year at the International Pool Spa Patio Expo in Florida before its European debut in Lyon at Piscine Global; and has also had a high-profile outing at The Pool & Spa Show in Atlantic City sandwiched between its two UK exhibition appearances at the UK Pool & Spa Expo at the Birmingham NEC and SPATEX at the Ricoh Arena in Coventry earlier this year.
Marquis Director of Global Sales Steve Hasenmueller, who  put the ATV through its paces at the UK Pool & Spa Expo with a full demonstration of water training routines that can be performed by all age groups, has welcomed the impact that the ATV has made with UK dealers and international trade audiences at the exhibitions.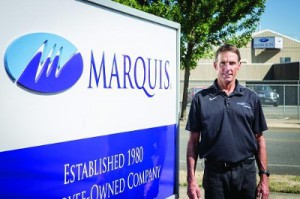 Along with major exhibition exposure around the globe, publicity for the ATV has been advanced by Marquis collaborating with six-time Ironman World Champion Dave Scott, pictured, the First Inductee to the Ironman Hall of Fame, to provide online exercise guidance for ATV owners with a dedicated SwimSpa Training section on its website.
"We've had a tremendous response to our launch of the ATV," said Steve. "It has made a significant impact with our British retailers.
 "We're obviously delighted with the success it has achieved at exhibitions in the USA and Europe."
Welsh Hot Tubs Managing Director Steve Baxter, based in Aberystwyth, Ceredigion,  has helped the launch promotion of the ATV after securing the inaugural UK sale, which is featured in the 2015 edition of WhatSwimSpa?
Frank and Kyra Cormier, who have cultivated their large garden surrounded by stunning Welsh countryside for more than 15 years, became the delighted owners of the first installation of an ATV on British soil earlier this year are were more than happy to share their experience with WhatSwimSpa? readers.
The retired couple suffer from arthritis, and have had knee and shoulder pain to contend with and originally visited the showroom of Welsh Hot Tubs to gain further information about the possibility of utilising a hot tub for exercising and gaining hydrotherapy benefits in warm water but Steve and Steve Hasenmueller convinced them that the ATV would be the appropriate choice for their health requirements.
"We immediately realised that the ATV would be perfect for Frank and Kyra and once we gave them an insight into how it would help them to exercise in warm water they immediately came on board with the concept and wanted to make a purchase," explained Steve Hasenmueller.
"Although we had not finalised our pricing for the UK, Frank and Kyra were still prepared to agree to become the first owners of an ATV on British soil."
Steve Baxter enthused: "We were delighted to gain our first ATV customer so quickly. We had no problems convincing Frank and Kyra about our reputation as we're well known in Wales and have a huge portfolio of installation projects and satisfied customers.
"The fact that this is the first installation of an ATV in Britain is another aspect of this sale that we're delighted with."
Frank is now a confirmed advocate of the ATV and the many wellness benefits of hydrotherapy and told WhatSwimSpa?: "It's marvellous for joint problems. I previously did a lot of long-distance walking and hiking but I had to stop when I started getting a lot of pain with my knee.
"Then I had the issue of my muscle tissue wasting away. I could barely walk because I was in so much pain before purchasing the swim spa. Now, following regular use of the ATV, I don't have to use walking sticks and I've forgotten how bad it was previously."
Kyra added: "As well as our arthritis, I have previously had trouble with dry eye syndrome and after using the swim spa it has gone!
"I've since been to the opticians and told them the problem has not been occurring and they've said it's the swim spa use that has helped my dry eyes. So that has been another extra benefit to my health."
Steve Hasenmueller enthused: "This is a great story and promotion for the ATV, as well as the Marquis brand and the profile of Welsh Hot Tubs, and I'm delighted that I was part of it."
Information about the ATV or the Marquis hot tub products can be obtained from Booth 2553 during the International Pool Spa Patio Expo. Exhibition times are 10am to 5pm on November 10 and 11; and on November 12 the show will commence at 10am and conclude at 2pm.