Hot tub mag gains sister publication
Hot tub and swim spa consumer magazines WhatSpa? and WhatSwimSpa? are being joined by sister publication WhatSwimmingPool? this summer to provide specialist independent advice for current and prospective pool owners.
Packed full of expert guidance, the inaugural issue of WhatSwimmingPool? has dedicated features for prospective pool owners to gain an insight into the health benefits of swimming and the types of pools and related products currently available in the market. Similar to its established wet leisure stable mates, the debut edition of the magazine also provides comprehensive information in the 'Buyers Guide' and 'Masterclass' sections to help readers become a knowledgeable pool buyer and owner.
As part of the magazine's strategy to further enhance the promotion of the pool industry, a 'Grand Designs' section also highlights stunning examples of award-winning projects. The ten-page feature puts the spotlight on Gold Award installations by SPATA (Swimming Pool and Allied Trades Association) members, who have been reporting strong order books this year, and provides inspiration to those who are currently in the process of planning their own pool designs.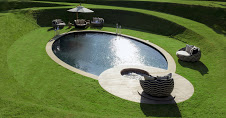 The Grand Designs feature includes the SPATA 2015 Pool of the Year, pictured, by Letts Swimming Pools, which incorporates a hidden underground plant room and perfectly sewn York edging stones. The SPATA judges were looking for something different, when comparing to previous winners of the prestigious accolade, and were very impressed with the pool project by the Ipswich-based company that specialises in tiled and vinyl lined swimming pools.
Multi-award-winning pool specialist XL Pools, which supplies the Watkins Manufacturing range of Caldera Spas from exclusive UK distributor Certikin, achieved the prestigious Dick Millward Trophy for Swimming Pool Constructor of the Year status at the 2015 SPATA Awards ceremony and has a number of installations featured in the Grand Designs section of WhatSwimmingPool?. These include the Gold Award-winning entries in the Residential Outdoor Pools £40,000 to £60,000 category; Residential Pools up to £40,000; and Residential Pools between £60,000 and under £80,000 categories.
Leading wet leisure product company Deep End Pools, which distributes the Saratoga Spas range of hot tubs and has several showrooms including sites in Devon and Henley-On-Thames, is also among the pool industry's top representatives showcased in the debut Grand Designs section of the new consumer magazine for its 2014 Gold Award pool project in the Liner Pools upto £45,000 category.
High-profile hot tub and pool specialist Home Counties Pools & Hot Tubs, which supplies Beachcomber and Elite Spas hot tubs and Endless Pools at the Hillier Garden Centre in Horsham, is also featured for its 2015 Above Ground Pools Gold Award-winning entry.
WhatSwimSpa? Editor-in-Chief Nick Clamp believes the latest addition to join the WhatSpa?, and WhatSwimSpa? consumer magazine stable will provide a boost for both prospective pool owners and the dedicated band of professional pool company and product specialists in the UK.
"The launch of WhatSwimmingPool? is perfectly timed with SPATA members reporting that they've been achieving strong order books this year," said Nick; "It ensures we now have a trio of high-quality wet leisure consumer magazines to encapsulate information for the respective hot tub, swim spa and swimming pool audiences with specific advice that is now dedicated to these three sectors of the wet leisure market within our respective three publications.
"Our intention with all of our wet leisure consumer magazines is to provide our readers with an independent and comprehensive guide to enable them to make an informed and stress-free choice while selecting their respective products and services from trusted companies.
"As is the case with WhatSpa? and WhatSwimSpa?, we want to help prospective pool owners to understand the various elements of the market and gain invaluable knowledge from our Buyers Guide and Masterclass sections in our inaugural issue of WhatSwimmingPool?
"They will then hopefully gain inspiration from our Grand Designs section ahead of making the final decision to purchase the pool of their dreams and help to further boost order books of the many thriving pool companies and product supply specialists in the UK."
Meanwhile SPATA, BISHTA, and BSPF PR & Marketing Manager Sallie Golding is urging pool and hot tub companies who are members of the respective wet leisure organisations to take pictures of their latest installation projects for entry in the 2016 British Pool and Hot Tub Awards. The process for submitting entries opens this month and the winners will be announced on January 31 at the BISHTA and SPATA gala awards ceremony at the Ricoh Arena in Coventry, during the 20th anniversary exhibition of SPATEX.
"Hopefully they will be show-stopping examples of the wet leisure industry at its very best," said Sallie.
"The first few months of summer have seen a much welcomed British heatwave which, of course, means that the first thought on consumers' minds is how to cool down, with their second thought being; if I haven't got a pool, spa or hot tub, why not?
"Needless to say, we've had reports so far this year that SPATA and BISHTA members are being kept extremely busy with strong order books, along with many reporting growing waiting lists."
Members have also been alerted to the fact that the annual BISHTA Conference is being held on September 29 in Andover, while the SPATA Conference is also being hosted in Andover on October 8.
This year, with so many important topics to cram into the day that will affect the members, it has been decided to have one full day for each Trade Association.
BISHTA's topics include the latest updates on the European standards for domestic hot tubs and also the most recent news on the workforce qualifications.  There will also be research from Public Health England on their investigation into the aerosol created from an inflatable hot tub. 
SPATA, which will be exhibiting at Leisure Industry Week (LIW) on September 22 and 23 at the Birmingham NEC, will be covering the various changes affecting the industry during the conference. These include Building Regulations, BIM and European standards.