Hot tub offer for 50th anniversary
Hot tub bargains are up for grabs from experienced wet leisure product supplier All Swim as part of 50th anniversary celebrations to entice customers with lower prices following a heatwave sales offer.
The Cardiff-based WhatSpa? Professional hot tub dealership, which specialises in Caldera Spas, including the 2022 WhatSpa? Best Buy Award-winning Marino and Cantabria, and Fantasy Spas, including the Best Buy Award-winning Drift, by Watkins Wellness that are supplied in the UK by Certikin. has launched a special anniversary deal to mark the half century milestone with £500 off the price of any hot tub ordered during July.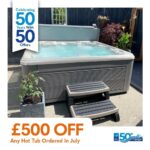 This latest sales and marketing initiative, pictured, to mark the 50th anniversary this month since the family-run company was first established in July, 1972, by Mike and Audrey Allen, comes after a recent 'Heatwave Sale' with ten per cent discounts on various products including hot tub chemicals.
"This month marks 50 years since my parents started All Swim Ltd," said All Swim's Jane Veysey.
"My mum gave up her beloved job in London when I came along but she spotted an advert for Cascade Pools, which explained if you became a retailer of their pools, you would get your own swimming pool for free. Who wouldn't take up that deal? Mum convinced Dad this was a great opportunity and the rest as they say is history!
"As part of our 50th Anniversary celebrations we've got some fabulous special offers."
As well as a wide range of wet leisure products, including Garden Leisure and Nordic hot tubs and Endless Pools swim spas that provide greater energy-efficiency compared to a swimming pool and now have a new Vision AR App to help prospective owners visualise their prospective purchase, All Swim is continuing to evolve its award-winning retailing operation with a host of associated accessories.
The dealership is currently promoting Remanso Luxury Pergolas after installing a display model in the showroom at Link Trade Park, which now illustrates the benefits to prospective customers who want to enhance their hot tub use or alfresco dining area with the automatic and adjustable louvre-style roof system.
"The motorised roof louvres of the Remanso can rotate from closed through 45° – or can be paused in between – allowing the perfect amount of sunlight and breeze in, or providing shelter from the rain and elements when closed," explained Jane.
"Adding to the ambience is the included LED Roof Lighting, also operated via remote control, while the addition of the optional blinds will provide privacy when desired."
Earlier this year All Swim was rewarded for its retailing performance as part of the SPATA Awards during the 2022 British Pool & Hot Tub Awards ceremony by being presented with the prestigious Peter Geekie Award for Retail Excellence.
"I am beyond proud of what All Swim have achieved over the past 50 years – growing the business while doing our utmost to provide the best service possible for our customers, something we plan on continuing to do going forward," said Jane.
"Here's to the next 50!"