Hot tub presence is icing on cake
Leading hot tub and swim spa specialists turned out in force alongside their pool counterparts to promote new wet leisure products and ensure the 20th anniversary edition of SPATEX was a major success in Coventry.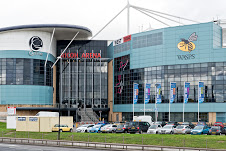 Strong winds battering the West Midlands at the start of February could not blow the exhibition off course from achieving its best performance since the decision was made to transfer the wet leisure showcase to its new home at the Ricoh Arena in 2014, which had ended a 17-year run at its traditional Brighton location.
A 'sold out' event was secured with major hot tub and swim spa brands seeking last-minute exhibition stand bookings ahead of the hat-trick of appearances at the home of football and rugby teams Coventry City and the Wasps, had built up expectation within the industry that produced a bumper attendance.
The marketing initiatives and publicity, including that the Wasps were instigating a series of enhancements for the Ricoh Arena stadium, throughout the previous 12 months had helped to produce a long list of over 120 exhibitors to cater for a large 28 per cent increase of visitors to the Jaguar Exhibitions Halls 1 and 2 as part of the anniversary celebrations, including a Mexican-themed evening following the second day of SPATEX, which proved to be the icing on the cake for the hard-working organising team. The success of the event has now guaranteed a fourth appearance at the venue for the 21st edition of SPATEX next year that is scheduled to run from Tuesday, January 31, to Thursday, February 2.
SPATEX organiser Michele Bridle and her team members have had to take on the responsibility of the transition from Brighton to Coventry and to generate support for the move to a new host location in recent years. Now, with the extremely positive feedback from a growing band of exhibitors keen to return and bumper visitor numbers, they are planning to build on the new foundations for the exhibition and success achieved during this year's wet leisure extravaganza.
"Throughout the three days of the exhibition the feedback from exhibitors and visitors has been very positive and we've already gained a large amount of verbal commitments for stand space for the 21st edition of SPATEX," reported Michele.
"For three days the Jaguar Exhibition Hall was a vibrant networking extravaganza, bursting with high-tech stands displaying all the latest wet leisure innovations and products. Every sector of the wet leisure Industry was represented in all its glory, from saunas, steam rooms, swimming pools to spas and hot tubs and everything in between. 
"A comprehensive double seminar programme was extremely well attended. Led by a stellar team of industry experts, the seminars offered visitors a chance to update their professional skill for free and gain valuable CPD points.
"In fact, the event was nothing short of what you would expect from the UK's number one wet leisure exhibition with an impressive international standing."
SPATEX loyalist Certikin International has been steadfast in its support for the exhibition in Brighton and more recently in Coventry and once again had a major double stand presence in the Jaguar Exhibition Hall to showcase its credentials as being at the vanguard of innovations; as well as 'one-stop-shop' capabilities and leading support services.
The wet leisure powerhouse was among a small group of exhibitors that had pre-booked double stands early in 2015 for the 20th anniversary edition, enhance the promotion of its formidable status in the market as a pedigree manufacturer and supplier to the trade.
Once again the thriving company was spoilt for choice ahead of the exhibition but gained success during exhibition with its showcasing of innovative products for specialists from both the hot tub and pool markets to gain further information about and discover how they can be incorporated into their flourishing businesses.
Pre-publicity about the latest USA-manufactured entry-level Fantasy Spas and pedigree WhatSpa? Best Buy Award-winning Caldera Spas hot tubs from Watkins Manufacturing, plus WhatSwimSpa? Best Buy Award-winning swim spa options from Catalina Spas, as well as a booming choice from a flourishing catalogue of swimming pool products and accessories, many of which are featured in the inaugural issue of WhatSwimmingPool? magazine, ensured the Certikin's stands were busy throughout the three days of SPATEX. Visitors were still flocking to the stands during the final day that has continued to experience increased attendances in recent appearances of the exhibition at the Ricoh Arena.
Last time round during the 19th edition of SPATEX Certikin launched the Fantasy Spas range to the British market to complement its established status as the exclusive distributor for the Caldera Spas stable, which feature the top-selling WhatSpa? Best Buy Award-winning Marino from the Vacanza Series; and Cantabria from the Utopia Series.
Two additional 'plug and play' Fantasy Spas models from the California-based hot tub giant were officially launched at SPATEX to mark the first anniversary of the range. Seasoned SPATEX exhibitor and Certikin Commercial Director Ben Studdy and his Endless Summer team, which also supplies one-piece pools and enclosures, are now seeking additional retailing outlets for the new two-person rectangular 'Aspire' and five-seater 'Splendor' that have joined the three-seater 'Embrace', four-seater 'Drift' and five-seater 'Entice'in the Fantasty Spas range.
Like other options in the Fantasy Spas stable, which have been produced with technologically advanced polymers in a RokSolid shell and cabinet, the Aspire is a 'plug and play' model that is a roomy two-way lounger perfect for couples that has an accessory tray, which can act as a table for drinks or games, and towel hooks. Ben stressed that these models are available to existing as well as prospective British dealers as part of the exclusive distribution deal with Watkins Manufacturing.
"All of our five Fantasy Spas models are available to all UK hot tub retailers who want to supply them as entry-level options in their showrooms," said Ben.
Along with a substantial quota of experienced hot tub and pool experts to support the wide range of products on display on the two exhibition stands, Certikin Marketing Manager Cath Saunders was on hand to help highlight the latest Fantasy Spas offerings and the complete 'one-stop-shop' capabilities for current and prospective hot tub and pool customers.
"We've been very busy on our stands throughout the first two days and even on the third day we had a lot of visitors to our display areas wanting to find out about our many existing and new products," reported Cath.
"Our aim at SPATEX is to highlight all of our hot tub and pool product capabilities and to provide promotion for our essential wet leisure service with unrivalled technical advice from our knowledgeable team. If our clients need guidance and support to ensure that projects for their own customers run smoothly then they know that they can call us for guidance and support. We'll always help out and provide the necessary advice to our customers.
"No other wet leisure supplier can provide this extremely high level of support that we can. That's what sets us apart from other companies."
Along with its exisiting hot tub capabilities, wet leisure product lines and Calorex Heat Pumps, Certikin was also highlighting exclusive launches of new products including the innovative Walu Deck and Walu Air pool covers, plus OC-1, which has been proclaimed as being the 'future of swimming pool filtration'.
Certikin General Manager Neil Stephenson was kept busy during SPATEX promoting the unique Walu Deck decking system that extends over and retracts from the pool to provide a safe and secure cover that can maximise space with its load bearing credentials.
"This manual retracting cover system helps to maximise space and is available at half the price of electronic cover systems that perform similar requirements and it has gained a lot of interest from visitors to our stand throughout the exhibition," said Neil.
Technical Sales Advisor Warren Davies was another member of the Certikin exhibition team who was in constant demand to explain the benefits of the new Walu Air winter debris pool and safety cover throughout the three days of the wet leisure extravaganza.
Warren highlighted that the Walu Air cover is ideal for winterising pools as it creates an inflated pillow that literally 'plugs' the shape of the pool to prevent debris entering and also providing an excellent visual deterent for animals and children.
"We've had a lot of interest in this product because of the fact that it can be inflated in the middle so easily to provide a completely secure cover," said Warren.
"From the feedback we've already received during SPATEX we're very confident that it will be a success with our clients and their customers."
EMEC GB Director Simon Jay was also providing his expert knowledge on the Certi Dos stand. He was highlighting a new and safer enclosed dosing system for Certikin's pool specialist customers that has advanced connectivity to a cloud server, which can be accessed by mobile devices.
"There has been a demand from the pool market for a safe dosing terminal that provides a secure and visible environment for the water dosing process to be conducted in and now the Certi Dos system provides this capability," revealed Simon.
"It is a major development for the industry and has generated a lot of interest throughout the three days of the exhibition because it solves a lot of the safety issues that pool professionals are seeking to provide within the pool projects for their customers to eliminate the problem of coming into direct contact with chemicals.
"All of the important elements of the dosing system are now in full view and are locked securely within a contained unit that can send alert messages to pool owners or their dedicated service suppliers.
"We've gained extremely positive reaction for this new development and also taken on board some of the valuable feedback from the show to help us produce additional features including the provision of a webcam in the unit so that pool specialists can view the dosing unit when they are at other locations."
Flourishing hot tub and swim spa distributor and Aqua Warehouse Group chief Richard Hart was another representative from the group of former Brighton exhibitors who have now made the transition to the Ricoh Arena. He was among a number of exhibitors this time round had returned to Coventry for a second successive year to help promote his thriving Aqua Spa Supplies trade service, which is proclaimed to be the fastest growing accessories distributor in Europe.
In the early stages of the opening day Aqua Spa Supplies had taken the time to host a seminar on various pool vacuums and spa filter cleaners and its representatives were then constantly busy with visitors to the stand during the afternoon and subsequent two days of the exhibition.
Along with the pool vacuums the Aqua Spa Supplies team had a wide range of wet leisure products and accessories to promote including the 'Grip O Cooler', to help securely keep a Champagne bottle on ice on hot tubs, which had proved a sales hit after being launched at the start of the 2015 season and featuring as a 'Hot Product' in the latest edition of WhatSpa? magazine.
Richard, who had recently hosted two seminars for the thriving L.A Spas and Vita Spa dealer networks that supply the ranges of USA hot tubs and swim spas, was at the opposite side of the Jaguar Exhibition Hall to his stand location last year but had a similar sized display area that this time round was heavily promoting the End2End swim spa cover that is available exclusively to the British market from Aqua Spas Supplies.
An array of hot tub and swim spa cleaning products were also being promoted on the stand and these included the Ultra Mitt, Mytee Mitt and Life Spa Brush. A large selection of ducks were also on display including the dedicated Aqua Spa Supplies Duck to promote convenient 24/7 ordering service, and other ducks including the Vita Duck, Life Guard Duck, Hula Duck, Surf Duck and Mermaid Ducks, along with fragrances from the Spazazz Crystals range of options including the fruity choices of Grapefruit Organge and Kiwi Pear in the Spazazz Escape category, fun thermometers, towels, steps, an Underwater Lightshow, Floating Can Holder, Smart Bar, Spa Caddy, the Spa Side Handrail, the Safe T Rail and Darlly Pure-Stream De-Ioniser.
Aqua Spa Supplies Warehouse Manager John Mabey, who is featured as a wet leisure industry representative in the Talking Heads section of the latest edition of Hot Tub Retailer magazine, was also on the stand to help promote the newly-launched End2End product line in its growing stable of swim spa covers, which includes the fully-automated Covana Legend CS 1000 cover system. They now complement the Oasis and Evolution hot tub covers in the blossoming cover range of products
Along with other members of the Aqua Warehouse Group team, John was highlighting how easy it was to retract an End2End cover that was on display covering a swim spa on the stand. The rugged USA-manufactured covers have steel frames fitted into their thick and durable covers; which are flexible to enable one person to easily roll it off partially or fully and are custom-built for swim spas up to 20ft.
"This product has helped to generate a lot of interest to our stand," revealed John. "It immediately eliminates the problem of having to potentially struggle on your own with a heavy swim spa cover."
Vita Spa Dealer Manager Graham Message was also patrolling the stand and explained that End2End cover owners could roll back the cover fully from inside their swim spa once it had been partially pulled back.
"It's a very effective cover and has been demonstrated during this exhibition to be very easy to roll back," said Graham. "We've also been informing visitors to our stand that it is also very easy to roll back this cover when owners get inside a swim spa."
John was keen to promote the newly-launched Aqua Step range that he believes will become as popular as the Aqua Lift cover lifters. He also highlighted that there is also the option of a convenient storage unit within the hot tub steps to provide owners with somewhere to store their accessories or cleaning products.
"These are very rugged steps that we have introduced with our own dedicated 'Aqua' branding and packaging to provide extra dedicated accessories for our customers like we've done with the Aqua Lift options," said John.
Graham reported that Aqua Warehouse Group was not only delighted with the increased sales performances from its respective hot tub and swim spa lines but also the positive response and feedback from dealers during the distributor's two pre-spring events at its Chelmsford headquarters.
"There's nothing better if you see dealers walking out of your seminar events feeling upbeat and positive for the year ahead," said Graham.
"A big factor in this was the attendance by MAAX Spas CEO John Johnson at the seminars and this went down really well with the whole group of dealers.
"It was a fantastic opportunity for them to meet up with senior representatives of the manufacturing company as part of our policy of enhanced communication strategies and respect for our dealer network."
 Richard reported that his L.A Spas and Vita Spa dealers had enjoyed their respective seminars and were now looking forward to improving their sales performances after recording increased totals last year.
"It was very pleasing to report to our dealers at the L.A Spas Seminar that they had increased their annual sales total and our overall sales for the UK were 30 per cent up on the previous year," said Richard.
"They performed really well and we're very happy with how things are going now that we've settled in with the distribution duties for L.A Spas and promotional activities, which we will be heavily supporting once again this year."
L.A Spas UK Representative Sean Aldred, who attended the L.A Spas Seminar event and was also on the Aqua Spa Supplies stand , reported that the brand had enjoyed a good start to the New Year and additional swim spas sales had also been recorded.
"We did very well last year and we got off to a good start in January with swim spas included in our sales," said Sean.
Coast Spas has gained a major presence in the UK and Europe thanks to previous SPATEX appearances in Brighton and was among a number of wet leisure companies that had returned to the SPATEX exhibition format this year for a first outing at the new host venue home at the Ricoh Arena.
Following a record-breaking attended IDM, hosted at the Sheraton Wall Centre in Vancouver a year previously, Coast Spas has been promoting the innovative production features of the 'Wellness Infinity' swim spa that has gained an immediate impact in the market and includes a pressurised commercial-grade Hydro Cyclonic Filtration System in its innovative design. Its hot tub predecessor the Phantom was on display on the stand and helped to promote the advantages of the unique 'infinity edge' design by the manufacturer. A Freedom model was also in the centre of the stand next to a NWZ Northwind model.
In the past A5 Spas chief Mark Anthony and his dedicated hot tub and swim spa team, have boosted the promotion of Coast Spas by providing assistance at SPATEX exhibitions in Brighton and Europe and he reported on the Coast Spas UK stand that he had achieved amazing sales success with the Wellness Infinity swim spa.
"It is a fantastic swim spa and it has been amazing for us this year," reported Mark; "The beauty of the design is that you're not looking at a wall of acrylic and instead can swim with an unobscured view thanks to the infinity edge."
 The award-winning Coast Spas dealer was joined on the stand by fellow Coast Spas dealer Jennifer Angood of Hot Tubs at Home, who has also previously landed a host of high-profile awards including the manufacturer's 'Outstanding Customer Service' accolade and 'Outstanding Growth International Award' and is celebrating her tenth anniversary in the industry with husband Darren this year, was also on hand to provide her knowledge to prospective dealers visiting the Coast Spas UK.
Jennifer launched Hot Tubs at Home in 2006 in Towcester and has been going from strength to strength servicing Northamptonshire's surrounding regions after introducing Coast Spas to her showroom in 2008. Among an impressive display of the Coast Spas range among a large selection of hot tub models is the Wellness Infinity, which has hit the ground running since it was launched to the swim spa market last year.
 "I believe in this manufacturing brand and have built up my business with it during the past seven years after originally being a retailer of products from other manufacturers," said Jennifer.
"Following my experience with other brands I now know that I have found the perfect brand for what I want to achieve in the hot tub and swim spa markets.
"I'm very proud to have gained the highest award recognition from Coast Spas and I'm passionate about endorsing its products to my own customers. That's why I've taken time out from my own showroom schedule to help to promote the current and new options of hot tubs and swim spas for prospective dealers during SPATEX."
During the first day of SPATEX on Sunday Coast Spas CEO Don Elkington was congratulated by SPATEX Ltd founder and current Chairman Howard Gosling FISPE for his efforts to unite various industry organisations, including the British & Irish Hot Tub Association (BISHTA) and the European Union of Swimming Pool and Spa Associations (EUSA), to help to support and instigate a global initiative that is establishing international conformity to enforce stricter standards in the hot tub and swim spa retailing markets.
 "These strict standards, which Coast Spas has helped to pioneer, will have a major impact on the market," said Mark.
 "They are going to provide greater consumer confidence in products that match these standards from quality manufacturers and their dealers. For those owners that are then prepared to risk purchasing hot tubs and swim spas that are manufactured without compliance to these standards they risk having no accountability or insurance if anything goes wrong with them."
 Another main talking point on the stand throughout the three days of SPATEX, though, was the new entry-level options from the Coast Spas production line for the British market and Mark and Jennifer helped to provide details about these fledgling models and the Canadian company's manufacturing capabilities, which has been rewarded with multiple WhatSpa? and WhatSwimSpa? accolades in recent years including a 2015 WhatSpa? Best Buy for the eight-seater Mirage Curve Elite in the £8,000 to £11,999 price category and the seven-seater Luxury Cascade II in the £12,000+ price band of the consumer magazine.
A wide selection of budget-busting models are now available for current and new British dealers to target the entry-level market with the launch range of Regency Collection hot tub and swim spa models priced between just under £4,000 and below £12,000. They have been launched this year to target consumers seeking quality manufactured options from the entry and medium price brackets in the market all costing less than £11,000 including the Knight from the Typhoon Series, with the highest entry-level hot tub price tag of £10,995, and the six-seater Queen, seven-seater King, along with the Princess, which seats five or six people; and the Prince, which can accommodate six or seven people, from the Cyclone Series.
The Tropical Series includes the Grand Duchess, which can accommodate five or six users; the six-seater Grand Duke; the four-seater Viscount; the Baron, which can seat five or six people; and the three-seater Baroness model that is one of the lowest priced models with a price of £3,995. Dealers also currently have the option of a two swim spas named the Emperor, and Empress retailing at under the £12,000 price point.
"This is a new line of dedicated hot tubs and swim spas for the UK that can ensure increased profitability for dealers that gain them for retailing in their exclusive areas," said Mark.
"We will be ensuring that there is a large amount of stock retained in the UK at our bonded warehouse, so that we can provide a constant supply of models to dealers for their customers.
"Although these models are going to be targeted at prospective customers with an entry-level budgets they will still have the traditional famed Coast Spas manufacturing philosophy of exemplary 'made in Canada' quality standards."
Specialist hot tub distributor and Spa Crest Europe chief Tony Welsby was another SPATEX loyalist who had continued his run of successive appearances as an exhibitor. This time round he occupied a similar stand location as last year to promote the launch of a new seven-seater TT450 Tuff Spa to mark the first anniversary of the brand being introduced to the British market. Major news on the stand though was the announcement of a new deal to supply swim spas from Florida-based Premium Leisure that had just been verbally secured ahead of SPATEX.
"We've spoken with our contacts at Premium Leisure and just managed to sort out the deal before SPATEX and we're really excited to be linking up with this manufacturing company," said Tony.
"It's still very early in the process, though and we've got to get our heads round the range of swim spa options that we're going to be supplying to the British market. Initially we'll bring over a couple of swim spas to start off with and then build up orders from there on for other models.
"The benefit for us is that we're going to use our relationship with Spa Crest to transport their hot tubs in any partially-filled containers of swim spas from Premium Leisure. So there will be a significant cost saving that we can take advantage of."
Last year during SPATEX, Tony had a video showing Tuff Spas from the Arizona-based manufacturer being dropped from a crane and driven into by a large vehicle to illustrate that they live up to their name and reputation of being a high-quality range of robust roto-moulded hot tubs, which have a lifetime warranty on their shells.
Since then Tony and his dealers have gained an immediate impact with the models, after being boosted with WhatSpa? Best Buy Award for the TT650 model and later gaining an extension to the distribution deal from the manufacturer.
"The original deal was for a year and now its been extended due to the success we've achieved," said Tony. "We're now going to be continuing with distributing this brand. It's very rugged and its distinctive cover, which has a lifetime guarantee, has proved really popular during the past year.
"It's certainly worked out very well for us since we introduced this brand at SPATEX and we're delighted to be promoting the launch of an additional model to the range."
Tony also was promoting the fact that the wide range of Spa Crest hot tubs, which incorporate carbon fibre spa shell design features, will now include the environmentally-friendly EcoSpray Bio 2.0 technology in all 2016 models including the revamped Coastal range that has the 2015 WhatSpa? Best Buy Award-winning Hatteras in its stable.
"This is a very good addition to the Spa Crest manufacturing process as it helps to ensure a much lower carbon footprint," said Tony.
"We have still got key areas that we are targeting for prospective dealers to come on board and we believe the enhanced Spa Crest range will be an attractive proposition."
The Spa Crest Europe display area was also highlighting the Brand2Go scheme that allows retailers to promote their exclusive branding of USA manufactured hot tubs and Tony reported that it was becoming popular with pool companies.
"Our Brand2Go scheme has been running for four years now and it has helped to attract hot tub dealers and specialist pool companies to supply one or more of our 11 options of hot tubs," said Tony.
"The benefit of the Brand2Go scheme is that it allows dealers to incorporate their own distinctive branding so that they can tie it in with any promotion with their company history and reputation in the market."
Newly installed BSPF President Alex Kemsley, who supplies the Spa Crest and Villeroy & Boch hot tub models with business partner Simon Dickson at their Waterstream showroom, was also on the stand and highlighted that the duo were also achieving success with their association with Compass Pools.
During previous SPATEX exhibitions the duo have had dedicated Compass Pools stands to help encourage hot tub dealers to take advantage of this route into gaining additional revenue streams from pool installations. They have started to gain increased interest from dealers in the past couple of years but have been taking advantage of the simplicity of the Compass Pools installations themselves to boost their business.
"We've been heavily involved with the Compass Pools side of the business during the past year so that has overshadowed the hot tubs side of things," said Alex.
"It really is a perfect solution for hot tub dealers to gain a foothold in the pool market. We've tried to promote Compass Pools to other hot tub dealers during previous SPATEX appearances but have now put a considerable amount of our time and energy into driving the demand for these pools ourselves and it seems to be paying off.
"Awareness has certainly increased in Compass Pools and people are now asking for them as the best solution for their requirements and budgets.
"As BSPF President I'm hoping to provide a fresh approach to promoting the various elements of the wet leisure industry during my year in the role. One element that I'm keen to help support and promote is the fact that all BISHTA members can provide prospective customers with the peace of mind that they've been fully checked out by BISHTA as part of their membership agreement."
Former BSPF President Issy Rickards Sanger and her husband Kevin of Elite Spas had booked a second successive appearance at the Ricoh Arena venue to mark the first anniversary of the launch of their distributor partnerships with USA hot tub brands Alps Spas and Aspen Spas that have helped to achieve over 1,000 British sales in 2015.
The Yeovil-based couple had previously achieved significant dealer recruitment success by promoting their Elite Spas product lines at previous successive SPATEX appearances in Brighton were following up their first outing as an exhibitor in the new Jaguar Exhibition Hall venue last year to highlight new hot tubs and swim spas and their current range of Elite Spas products and services as well as the Alps Q Series models.
Last time round the couple launched the five-seater Obsession II from St Louis-based Aspen Spas, after concluding their 11-year association with Sunbelt Spas, and used the 20th anniversary edition of the exhibition to introduce a new Trojan swim spa option and Elite Party Pool model for their dealer network, along with a new round Joy model.
"We've had another great show and we've been delighted with how well our new products and introduction of Gecko electronics and touchscreen capabilities have been received on our very busy stand this year," said Kevin.
"On Sunday it was mad on our stand and we were constantly busy throughout the day. It certainly is a credit to the organisers and vision of the SPATEX team. They've definitely got a great location here and we'll almost certainly be doing next year as well."
"Last year we had great success with the launch of our two new suppliers for our dealers and I'm confident that this year we'll achieve good sales again because we've got some great hot tubs and swim spas options now."
Aspen Spas General Manager Sam Bania, who helped to establish the hot tub manufacturing business over 20 years ago with his brother Tom and their parents Pat and Lee, flew in from the USA to attend SPATEX last year and had returned for a second time to provide his knowledge of the options available to dealers during the 20th anniversary edition.
"We had a great first year after launching our supply deal with Elite Spas in the UK," said Sam. "Things are very good at our factory at the moment and we are expanding our models and introducing enhanced efficiency.
"During the past year we've had demand for all our products but the smaller tubs have sold really well. We're always trying to be innovative with our designs and that's why we've introduced our new round Joy model and have other designs that we're working on this year."
Along with their leading USA and Canadian hot tub and swim spa counterparts, a trio of European exhibitors had booked into SPATEX 2016 to help swell their dealer ranks and expand their share of the booming British market.
Dutch hot tub and swim spa specialist Passion Spas has established its presence and gained ground in the British market following attendances as an exhibitor at SPATEX in Brighton and now successive Coventry outings and was building on its previous appearance at the Ricoh Arena to promote its latest product innovations. These include the high-end Felicity hot tub, which was on display, and the new entry-level Repose, as well as the fully-featured Desire.
During the past year development work has commenced to extend the company's headquarters in Holland and Passion Spas founder Dolf Nieland was keen to promote the fact that the company's dealers will be able to take advantage of a constant supply of Chinese-manufactured models like those that have been showcased at high-profile European, USA and Canadian exhibitions during the past year.
"One of our main strengths is that we are constantly designing new models and evolving out existing hot tub and swim spa lines to accommodate demands from our dealers and their customers. We also include elements of our own vision of what we want to include in the hot tub and swim spa designs that we are going to introduce to the market.
"The expansion into the USA has gone very well for us and it is a flourishing market for our products because our hot tubs and swim spas are providing something new that has not been available before. To help cater for increased demand in Europe, the USA and Canada we've drawn up plans and now launched the development work for major expansion at our headquarters in Holland to help us achieve further success in the future.
"We know when our hot tub or swim spa models are becoming popular because we see lots of them coming in to our dedicated test facility in Holland before they go off to our dealers and their customers and that has been the case recently with the new Felicity.
"While we were designing this hot tub model Arno stressed to me that we needed to keep it compact but with all of our Passion Spas features that we are already known for. This decision has been proved to be the right one because it has already done well since its launch in the USA and Europe."
Wellis made its debut at SPATEX to promote its new factory facility and 'Made in Europe' manufacturing capabilities for a thriving range of hot tubs, as well as new swim spa models after outings at major exhibitions throughout the continent in recent years.
The Hungary-based manufacturer, located 30 kilometres from Budapest, has been making great strides in the British market in the past year and was highlighting details of its fledgling distribution partnership in the UK with Rob Carlin and his Chesterfield-based Superior Spas outfit. This brand was also making its debut on a nearby stand to promote the latest entry-level hot tub models, including the Dream and Fiji options that were on display, which are also manufactured by Wellis.
The Superior Spas 'plug and play' range that has the Dream, also includes the Bliss, and the Paradise. The Fiji, meanwhile has been designed with a lounge seat and capacity to accommodate five other people.
As well as the the indulgent single-person WELLONE, which provides Wellis MicroSilk Oxygen Therapy; and Dabassy that incorporates the new touch screen SpaTOUCH system and a unique acrylic filter unit, the European manufacturer used the SPATEX platform to launch its new swim spa designs including the Rio Grande, which was on display on its side on the stand, the Amazonas and its Amazonas Power counterpart, the Danube and the Danube Power.
They are now joining a flourishing stable of hot tub models from the RoundLine, HighLine, NorthLine, CityLine and OceanLine ranges that are complemented with accessories including the Wellis Spa Umbrella, Wellis Towel Bar, Wellis Spaziano Tray, and WELLISTEP.
"We've had existing dealers for the Wellis and Superior Spas products come to see us and we've also had a generated a few good leads on our two stands from prospective dealers during our first SPATEX appearance," reported Rob.
"Throughout the three days, though, main interest has been for the Wellis products. The attraction is that they are part of a quality brand, with advanced technology, that is manufactured in Europe.
"For both the Wellis and Superior Spas product lines we've now got over 20 dealers in the UK and we'll be looking to build on this number to help increase our share of the British market.
"Last year Wellis achieved 450 British sales towards its total of 5,000 hot tub sales across Europe, which his a big jump from the 3,500 total of 2014. I'm very optimistic about the future and believe sales will grow even further this year.
After celebrating the recent launch of the new Wellis factory facility in Dabas, following an investment of five million euros, Wellis CMD Akos Czafik was also on the stand to help promote the manufacturer's hot tubs and the new range of swim spas.
"We are now the largest Europe-based manufacturer and have launched our new factory facility to meet the growing demand for our products," said Akos. "It is three times bigger than our previous factory site and now has the capability to help us provide more hot tubs and swim spas to the market."
Spanish manufacturer Aquavia Spa was another European exhibitor that was aiming to increase its presence in the British market during SPATEX with its 'Made in Europe' credentials and unique hot tub product designs.
In recent years the hot tub brand has been promoting its stylish designs that are finding favour with dealers in many European countries who are seeking alternative options for their discerning customers. This year the company had targeted the SPATEX 20th anniversary audience to kick-start its UK promotional activities, which previously included promotion of its distinctive four-seater Cube design that gained a 2014 WhatSpa? Best Buy Award in the £12,000 + price category.
This model was on display in the centre of the manufacturer's SPATEX stand, which was also helping to promote the launch of two new models in the form of the Wave and the Sunset.
A decade ago a multi-million euro injection of capital funding was the catalyst to creating a cutting-edge Aquavia Spa production facility in Cervera near Barcelona to compete with established international hot tub manufacturers and flourishing European brands. In the intervening years the brand has achieved the WhatSpa? Best Buy Award accolade recognition and expanded its dealer network following appearances at international exhibitions.
The manufacturer launched its distinctive four-seater Cube design in 2011 and its introduction to the British market was then rewarded with a 2014 WhatSpa? Best Buy Award in the £12,000 + price category.
Additional diverse hot tub models, with unique features, have since been created at the Spanish factory to compete with the historic brands that have cornered the global and European markets. Four dedicated ranges include the Exclusive, for owners requiring sophisticated design; Premium, with elegant and fully-equipped models; Aqualife, providing contemporary functionality and value; as well as the Professional range for commercial and public use.
The Wave and Sunset are the latest additions to the market from the Spanish manufacturer's production line and are being promoted with emphasis on the ergonomic designs of each individual seat within both models, which facilitate the transition between different seating positions.
Aquavia Spa Company Manager Artur Deu was on the manufacturer's stand, which proclaimed the fact that its products were bringing 'Spanish sun' to British dealers and their prospective customers.
"We've got a long-term strategy with the British market and this event has helped us to make some nice contacts," said Artur. "We already have three dealers in the UK and we're now hoping to bring on more retailers in the next few years.
"Last year we increased our growth by 13.9 per cent overall as a company and increased our established presence in the south European market. France and Germany are performing well for us and we've also been doing some good business in Italy. They like our designs and the fact that they are manufactured in Europe and can be delivered very quickly.
"Although we are based in Spain, the current dealers we have established in France are performing very well and that is our biggest market for us at the moment. The Spanish market has picked up in the last year but it is not nearly as good as it was previously. That's why 75 per cent of our products are exported to other European countries."
Artur reported that the manufacturer's Cube model was intended to be a distinctive design option for dealers and not a high-volume sales generator, but revealed that it had performed well in Germany and had also been successfully introduced intto hotels in the UK.
"We don't sell a high amount of Cube models because it is not like a traditional hot tub but it provides our dealers with something different to offer their customers," divulged Artur. "In the UK it has achieved a lot of good sales to hotels but country with the top demand for it at the moment is in Germany.
"Our new Wave and Sunset models have a minimalist design and have the benefit of being able to provide different massage sequences in each individual seat that have various depths so that they can accommodate owners and users with different sizes.
"We want to highlight that we can offer dealers a wide range of quality models and designs that are all manufactured in Europe. We believe we have created a wide range of unique product options that have a stylish and modern appeal. We realise we are in a competitive market but there is a lot of versatility provided by our factory and the Aquavia Spa brand."
SCP UK has gained a loyal band of dealers from a long run of appearances at SPATEX outings in Brighton to showcase a wide range of hot tub options and wet leisure products and accessories and the company has enjoyed success in generating interest in its holiday park products following back-to-back appearance at the Ricoh Arena.
The Beachcomber, Cove Spas, Dynasty Spas and Garden Leisure hot tub distributor has gained a raft of dealers in the past couple of years that have taken the Canadian and USA brands into their showrooms, while Cove Spas have proved popular with holiday park companies.
During the past year SCP Spa Product Manager Paul Thomas has been helping to welcome former retailers back into the market and reported that the company had enjoyed another successful SPATEX outing.
"We've had a very good SPATEX once again and we've seen a lot of people on our stand," said Paul.
"As always there has been a lot of interest in our wide range of wet leisure products, but this year there has especially been a significant amount of interest in our hot tubs that are appropriate for holiday parks."
Many familiar companies providing hot tub and pool products, plus a number of exhibitors making their debuts to promote their wet leisure products and services, also filled out large sections of the Jaguar Exhibition Hall.
Among this group was wet leisure specialist Golden Coast, which has been a leading supporter and advocate of SPATEX for many years throughout its 17-year run in Brighton and during the transition process to the Ricoh Arena. At the south coast location and the subsequent first outing in Coventry the family-run company had promoted its hot tub distributor status for leading USA brands.
This time round, without those responsibilities for the past two outings in the Jaguar Exhibition Hall, the SPATEX loyalist was keen to promote the fact that it is fully committed to providing a wide range of hot tub and pool-related products in its Essentials range, as well as new Tylo sauna Evolve modular options, to help trade customers boost their sales.
"Tylo sauna rooms set the standard for sauna design worldwide," declared Golden Coast Managing Director Jamie Adams. "Their versatile, modular design means that they can be installed nearly anywhere."
Throughout the exhibition Jamie and the Golden Coast exhibition team helped to highlight the company's 2016 policy of 'giving more for less' and a host of products including the BADU EasyFit pool pump from Speck, the high-efficiency LED lighting developments from EVA Optic, plus an Aqua Broom, SecureStraps XL and Life Magic Foam.
"This year's products are a reflection of how we're looking to give our customers more for less in 2016," explained Jamie.
With its double-stand presence the GoldenCoast team also highlighted the results of its fifth Wet Leisure Industry Survey to visitors throughout the three days of the exhibition, which indicated increasing sales of hot tubs in 2015. The family-run company was also promoting the chance to win a cheque for £5,000 by customers purchasing DEL's new Ultima pool cover system before December 16. It offers a complete solution for covering pools with slatted automatic covers and complies with French safety standard NFP 90-308.
"The ultimate cover systems warrant the ultimate incentives," said Jamie Adams. "So from now until December 16 every order of a DEL Ultima will include entry into our end-of-year prize draw, which will see one lucky winner walk away with a cheque for £5,000."
Visitors to the GoldenCoast display area also had the opportunity to gain awareness about the advantages of the company's bespoke custom-fit pool and spa control panels. As during previous SPATEX outings technical guru Andy James was on hand to provide his knowledge and advice to current and prospective customers.
"With an off-the-shelf product you could be paying for a lot of functions that you will never use," said Andy. "While other features that you would value are missing. However, when you opt for custom-made panels you get exactly what's needed."
To illustrate the benefits of the custom panels, GoldenCoast had a control panel on display and Director Shaun Adams highlighted the advantages of taking on the bespoke service and experienced guidance from the company's specialist team
"When customers weigh up the practical and cost-saving advantages of a customized panel, it becomes clear that this is not a luxury item but a key to many years of versatile control and trouble-free enjoyment," said Shaun.
 "The Wet Leisure Industry Survey provides information that is invaluable for identifying trends within the industry," said GoldenCoast's Managing Director Jamie Adams.
LaMotte Europe representatives reported that they had enjoyed their best ever performance during a successive appearance at SPATEX to promote the innovative LaMotte Mobile Waterlink Spin Lab that proclaims to be a 'new spin on precision water analysis'.
Previously Warwick-based Tim Schofield and his LaMotte Europe team reported that the Mobile Waterlink Spin Lab technology, which has proved to be an instant hit in the USA, has struggled to take off in the British market.
In the past it could only communicate via Android smartphone or tablet devices but has now been incorporated with the capability to utilise Apple's range of mobile devices include the iPhones and iPads, which may have helped to increase interest on the La Motte Europe stand and also publicity in the trade press that has highlighted the fact that Vita Spa and Marquis retailer Chris Brady of 1 Stop Spas has adopted the system in his new showroom location.
"We've had our best ever performance this year at SPATEX and finally we are seeing some very good levels of interest and take up of the Waterlink Spin Lab technology," said Tim, who was also be providing a free iPad Mini with every show purchase of 100 test strips as part of a special SPATEX promotion on his stand.
"It's taken a number of successive appearances at SPATEX to make this breakthrough but it now seems that hot tub and swim spa dealers are realising that this water testing technology can enhance their water testing capabilities.
"Many visitors to our stand have reported that they been experiencing growth in the past few years and feel that now is the time to invest in additional equipment to boost their businesses even further.
"Dealers that are proactive in this area of their business, like Chris Brady, can certainly stand out from other hot tub retailers and gain extra sales of water treatment products."
AquaFinesse UK chief Sally Koob received a giant hamper from her Dutch company supplier to mark her tenth anniversary and a decade of appearances at SPATEX promoting the hot tub water treatment product.
During a continuous run of appearances at SPATEX in Brighton and in Coventry Sally and husband Dieter have established their family-run AquaFinnesse UK status in the market and reported that this year's event had been a major success.
"Every year after appearing at SPATEX we've been achieving growth in the market," reported Sally. "This year we've been very busy on our stand once again, especially throughout Sunday and Monday and our order book is booming.
"It was a real surprise to receive the hamper to mark our tenth anniversary and it was a wonderful gesture to show that our efforts are appreciated. We have a loyal customer base that provides us with amazing feedback and they, as well as our dealers, have stayed with us over the past decade That's why we're still here.
"Dealers are now telling us that they can't afford not to sell this product. It's a very simple solution but it is very effective at tackling the problem of biofilm that harbours 99 per cent of bateria in hot tubs.
"Now that the product has gained such high recognition in the market I'm going to start to travel around the country visiting dealers to help enhance their own individual promotion to dealers.
"We'll also be heavily promoting our new Dead Sea Experience product this year which is a sea salt product that our dealers can retail in their showrooms as well as their current AquaFinesse products."
Building on his experience as a Coast Spas and HotSpring dealer in Holland, Roel Fassbender of Coast Spas Benelux was making his SPATEX exhibitor debut to promote the O-Care water treatment product lines from Dutch Water Concepts.
Roel was promoting a new app to assist hot tub owners in their water treatment procedures, while targeting fellow hot tub dealers to supply the O-Care water treatment product lines after officially launching the brand to the British market at the UK Pool & Spa Expo in November.
The Sterrenbeeld-based company, which is a staunch supporter of water.org that has been co-founded by Hollywood star Matt Damon, launched the O-Care water care products during the fourth edition of the UK Pool & Spa Expo at the Birmingham NEC.
As a hot tub retailer himself Roel has gained vast experience over the past ten years and has now launched the app to help pass on water care advice, while also promoting the benefits of O-Care that he provides to his customers in Holland.
According to Roel it is a mixture of high quality mineral salts that is eco-friendly and can reduce the amount of chlorine or bromine used by 78 per cent as it removes and prevents biofilm, while ensuring clean hot tub water. A typical box of O-Care will last three to five months if users follow the instructions to add the two components to their hot tub water once a week using the measuring cup included with the product.
During his debut as an exhibitor at SPATEX, Roel reported that his new app had helped to generate a high amount of visitors to his stand where he was highlighting that the O-Care hot tub water treatment product is not only highly effective but will provide great margins for dealers.
"We've been delighted with the response to our stand and first appearance at SPATEX," said Roel.
"I think that it is always difficult launching a new product in a market that has other options but it seems that our new app has helped us to attract visitors to our stand throughout the three days of the show," said Roel.
"Over the years I've built up a lot of knowledge about hot tub water care and I wanted to be able to pass it on in an efficient way, rather than having to repeat the same messages to different people.
"By launching this app it allows hot tub owners to go through various questions to try and resolve their hot tub issues, which may only be simple to resolve but may be hindering their enjoyment of their hot tub.
"If this app then leads to additional sales of O-Care then that will be good but it is not the main reason we've launched it. Our main objective is to increase water care awareness and provide a valuable resource for hot tub owners to use, rather than having to always be ringing dealers for advice."
The Pollet Pool Group (PPG) once again had a large stand area at SPATEX to help promote its products and flourishing distribution association with BAYROL and its blossoming SpaTime water treatment products for hot tub dealers.
PPG's Bayrol product expert and industry stalwart Jimmy Lamb has been helping to attract new suppliers for SpaTime at successive SPATEX outings and reported further success from tthe 20th anniversary exhibition.
"We've had a good show and there has been a lot of conversations," said Jimmy. "The SpaTime awareness has been building up following promotion at a number of SPATEX exhibitions now and we're likely going to be bringing more dealers on board as a result of this year's exhibition.
"Things are looking very promising and we're confident that we'll be doing well with our SpaTime brand. There is a lot of interest in it and I'm confident that more dealers are going to be taking it on in the future."
Rosie Cook and her brother John Ellis were taking part in their second SPATEX exhibition to promote their various hot tub and pool accessories and to highlight their Hydrospares company's products and services to visitors.
The siblings have been promoting a new Spa Hub that has gained a great deal of interest from the industry and used their return to the Ricoh Arena to help launch new elements during SPATEX.
Now the pre-fabricated, fully assembled equipment system, which is ideal for commercial or heavy domestic spas and pools has three dedicated model options. These are the 'Spa/Pool Hub' that retails at £2,999; the 'Spa/Pool Hub Plus', which is made to order and is priced from £5,999; and the 'Spa/Pool Hub Pack'.
"Following feedback from the trade we've now developed three model options of the Spa Hub to provide the ideal match for individual requirements," said Rosie.
"The Spa/Pool Hub is the most flexible and cost-effective solution, while the Spa/Pool Hub Plus provides an intermediate solution with a pre-wired and pre-configured control panel. The Spa/Pool Hub Pack, meanwhile, is our complete plug and play solution with everything required to control a pool and spa."
 "Especially for this year's SPATEX appearance we've been busy building a demonstration model to illustrate the potential of our three Spa Hub systems and it has helped to attract a constant flow of visitors to our stand."
Following the conclusion of the first day of SPATEX, the Ricoh Arena once again hosted the 2016 British Pool & Hot Tub Awards Gala Evening and Presentation Ceremony and among the big winners was Jacuzzi and Wellis retailer and pool specialist Barrie McCabe and his wife Paula and his step-son Gareth of Oyster Pools & Leisure; which landed an amazing eight accolades across the two BISHTA and SPATA awards ceremonies including the prestigious Peter Geekie Award for Retail Excellence sponsored this year by Certikin International.
Exclusive Jacuzzi retailer and Euphoria Lifestyle chief Mike Robinson gained recognition for his enhanced online presence with a Gold Award in the 'Best Website' category along with a Gold Award in the 'Residential Hot Tub £7,000 to £14,000' category; while Hydropool UK, gained a large haul of seven BISHTA awards in total including a Gold for 'Residential Hot Tubs in an Overseas Setting' and 'Best Showroom'.
Among the other BISHTA Award winners were multi-Artesian Spas product dealer North Spas; and Artesian Spas and Marquis retailer Complete Spas; along with Castle Hot Tubs, and Hot Tub Suppliers.
Anita McArthur from Tanby Pools was presented with the Paul Kite Award for the Pool Star of the Year during the SPATA Awards, while Cresta Leisure landed The Dick Millward Trophy for Pool Contractor of the Year.
BISHTA and SPATA Managing Director Chris Hayes reported that he was delighted with the level of quality entries and congratulated the winners who are now also eligible to be entered into the 2016 EUSA European Pool and Spa Awards.
"We congratulate all the winners of this year's British Pool & Hot Tub Awards," said Chris.
"We set a high standard for our judges from across both the pool and spa industry to score each entry on visual impression and technical merit. This means that an award won at the British Pool & Hot Tub Awards is very well deserved, and ownership of at least one award stands as a strong endorsement to consumers of the standard of work a winning company offers."
To book exhibitor stand space for the 21st edition of SPATEX in 2017 contact the organising team via email: helen@spatex.co.uk or michele@spatex.co.uk or telephone +44 (0) 1264 358558.
www.spatex.co.uk