Hot tub product specialist boosts service
Hot tub and pool products specialist Golden Coast has increased its warehouse team ranks to ensure customers from the wet leisure sector gain a top service ahead of another appearance as a SPATEX exhibitor.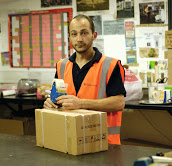 The family-run company, which also specialises in sauna systems, has greeted the arrival of Jonathan Marshall, pictured, as an important step in its mission to deliver the best customer service possible after he became the latest addition to its growing warehouse team.
Managing Director Jamie Adams believes it is another boost for the company and its customers ahead of continuing its loyalty as a SPATEX exhibitor. This will continue when Golden Coast welcomes current and prospective trade customers to its exhibition stands during the 20th anniversary of the hot tub and pool showcase, which will be running from January 31 to February 2 at the Ricoh Arena in Coventry.
"Quite simply, our success as the UK's largest independent supplier of wet leisure products to the trade has been built on doing everything we can to make our customers successful," said Jamie.
"Over the last 36 years we've come up with many imaginative ways of helping to boost their businesses, but one very straightforward approach is to ensure we have the staff and warehouse capacity to manage large stocks and turn orders around quickly."
Jamie highlighted that GoldenCoast's commitment to supporting trade customers is clearly in evidence on its website, goldenc.co, and online industry forum, wetleisure .co, which provide marketing advice and additional resources include free e-books and a number of short videos to ensure technical issues are made simple.
GoldenCoast also sponsors and helps to conduct the annual Wet Leisure Industry Survey, gathering vital intelligence to help companies sharpen their strategies for the year ahead, which will be available at SPATEX on the Golden Coast stands B18 and B32.
"As well as providing a comprehensive range of pool, spa and sauna products to suit all preferences and budgets we offer a similarly wide and varied collection of add-ons and accessories – like those in our Essentials brochure – to generate continuing sales for wet leisure businesses," proclaimed Jamie.
"When it comes to placing an order or seeking advice, customers find our staff always ready to go the extra mile. Our new recruit Jonathan shares our team's customer-focused approach and will fit into our team nicely."
To book exhibitor stand space for SPATEX 2016 contact the SPATEX team via email: helen@spatex.co.uk or michele@spatex.co.uk or telephone +44 (0) 1264 358558.