Hot tub retailers gain Showroom App
Hot tub and swim spa distributor Aqua Warehouse Group has provided its blossoming network of dealers with an autumn online boost by launching a dedicated 'Showroom App' for the popular Apple and Android mobile device formats.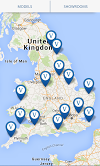 The exclusive L.A Spas and Vita Spa distributor has designed the App to be user-friendly and informative, as well as being able to highlight dealer showrooms, as pictured. It has been rolled out ahead of a fourth successive appearance at the UK Pool & Spa Expo at the Birmingham NEC in November by the wet leisure specialist.
"Moving between the respective hot tub and swim spa series, models, features and descriptions is very easy," reported Essex-based Aqua Warehouse Group chief Richard Hart.
"The App also, and very importantly, lists all of our UK dealers with all their details. Plus the device, if prompted, can navigate potential customers to the showrooms.
'This isn't like the Balboa control app, which is purely for controlling your spa from your mobile device, our Showroom App has been specifically designed to be very user-friendly and is a cross between a website and brochure.
"We now live in a world where we require instant access that seems to revolve around our mobile devices and the App is becoming more and more popular, so I decided to invest in our very own."
It follows a number of the distributor's hot tubs achieving WhatSpa? Best Buy Award success; including achieving a sixth successive Best Buy Award for the five-seater Vita Spa Elegant model; which comes in at 211 x 200 x 94cm.
A second Best Buy has been bestowed to the best-selling six-seater Vita Spa Prestige, which comes in at 211 x 211 x 97cm; while the six-seater  L.A Spas Belmar LX; which comes in at 211 x 211 x 89cm, has also gained a Best Buy honour in the latest accolades from the consumer magazine.
Aqua Warehouse Group Dealer Manager Graham Message has divulged that further initiatives are in the pipeline to help the company's network of dealerships to increase footfall in their showrooms and gain additional advantages in the UK market.
"Our sole aim is to always provide our dealer network with the professional tools to help generate footfall and future customers to their showrooms," said Graham.
 "This Showroom App is the latest offering that we have funded for the network. but we are now working on our next idea."
If you would like any information on the new Showroom App or details about joining the Aqua Warehouse Group's rapidly growing network of dealers, contact Richard or Graham on 01245 477 400 or visit Stand C10 at the UK Pool & Spa Expo from November 22 to 24 at the Birmingham NEC.