Hot tub seminar helps face challenge
Hot tub and swim spa distributor Aqua Warehouse Group helped its Vita Spa retailers face up to a new challenge during a spring seminar, as part of an insight into the marketing power of Facebook.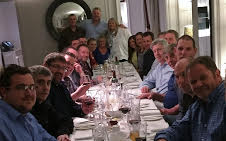 Last year Vita Spa's loyal band of UK retailers produced a bumper haul of record-breaking hot tub and swim spa sales to overtake the previous best performance achieved in 2013. They are now gearing up for the challenge of achieving further success after travelling from all over the country to help influence pricing and marketing strategies for the rest of the year during the seminar, which was hosted at the Chelmsford headquarters of Aqua Warehouse Group.
Chris Brady of 1Stop Spas and Garry Leach of Somerset Hot Tubs were among last year's Vita Spa hot successes. To recognise their efforts they were both presented with Outstanding Achievement Awards during the seminar by Aqua Warehouse Group chief Richard Hart and James McClure, the Director of Business Development at Arizona-based Vita Spa parent company MAAX Spas Industries Corporation.
Along with new Vita Spa product updates, one of the seminar's highlights for most dealers was a talk by a former BBC presenter and now media specialist on the marketing potential of Facebook.
The four-hour session covered many aspects of how to maximise the massive media machine's potential for businesses, while providing detailed knowledge into how Facebook can be utilised by hot tub retailers to maximise marketing activities.
"We all thought we knew a fair amount about how to utilise Facebook but how wrong we were," said Richard Hart.
Vita Spa Dealer Manager Graham Message, who has been helping Richard to spearhead the success and promotion of the brand in the UK including three successive appearances at the UK Pool & Spa Expo at the Birmingham NEC, believes the strategy to involve retailers in the marketing and pricing development of the brand is a key ingredient in ensuring their loyalty and prosperity once again this year.
"One of the things I always find very refreshing with Vita Spa is that we all have a democratic vote on the important issues such as Marketing & Pricing," said Graham.
"It isn't just Aqua Warehouse Group dictating what's going to happen this year, it's the dealers themselves."