Hot tub show product push
UK Pool & Spa Expo organisers are inviting exhibitors to utilise a New Product Zone as they make the final preparations to host the latest outing of the hot tub and pool exhibition at the Birmingham NEC in November.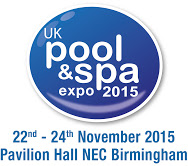 The New Events team currently organising the fourth edition of the UK Pool & Spa Expo are looking for companies to promote their latest product offerings for free; on a first-come-first-served basis where the necessary criteria has been met; as well as take up stand bookings for the year's second outing of the wet leisure event, which is being hosted in the NEC's Pavilion Hall from November 22 to November 24.
Any companies wishing to promote a new product launch in the UK Pool & Spa Expo's New Product Zone as part of their exhibition stand booking for the November event should either email: info@ukpoolspa-expo.co.uk or contact the New Events team directly on +44 (0) 1483 420 229.
New Events Director and UKPSE Organiser Claire Saunders has previously promised that the exhibition's return to the NEC for the second time this year, that there will be a large display from hot tub companies at the event.
Vita Spa distributor Aqua Warehouse Group is among a loyal band of UKPSE exhibitors to be securing a fourth successive appearance at the event. Other exhibitors who will be showcasing their products and services at the three-day trade and consumer exhibition include: Hydropool, Hydrospares, Passion Spas, Portrait Pools, and Wellis.
 "The UK Pool & Spa Expo is back and will be showing the largest selection of hot tubs anywhere in the UK," declared Claire; "With an exciting new dateline, it is positioned perfectly for companies to show their latest products and services.
"Exhibitors wanting to get involved in the New Product Zone should call our team or email their details."
Prices for exhibiting during the fourth edition of the UK Pool & Spa Expo include the Shell Scheme at £220 per sq.m, as well as space only prices of £175 per sq.m for up to 70 sq.m; £160 per sq.m for 71sq.m to 90 sq.m; and £155 per sq.m for 91 sq.m and over. All prices are subject to VAT at 20 per cent.
Exhibitors will receive free in hall lifting, free parking and free wi-fi plus complimentary use of the private exhibitor lounge.
Meanwhile, finalists in the UK Pool & Spa Awards are now being considered after the public voting has been officially opened to help decide winners of the Gold, Silver and Bronze Awards. According to organisers, this year's awards have smashed through the 130 mark from over 60 companies.
Winners will be announced at the awards presentation evening hosted at the brand new Vox Conference centre within Resorts World on the Birmingham NEC site on November 23.