Hot tub specialists can land iPad Mini
LaMotte Europe representatives will be targeting hot tub and swim spa specialists with a free iPad Mini and promoting the enhancements for the innovative Mobile Waterlink Spin Lab at the 20th anniversary edition of SPATEX.
Throughout the three-days of the exhibition, running from Sunday, January 31, to Tuesday, February 2, in the Jaguar Exhibition Halls 1 and 2 of the Ricoh Arena in Coventry, the LaMotte Europe team is going to be building on the campaign to promote a 'new spin on precision water analysis' on Stand E4 to the British wet leisure trade.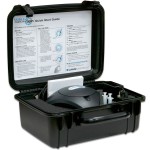 Previously the Mobile Waterlink Spin Lab technology, pictured, which has proved to be an instant hit in the USA, could only communicate via Android smartphone of tablet devices but has now been incorporated with the capability to utilise Apple's range of mobile devices include the iPhones and iPads.
Warwick-based Tim Schofield and his LaMotte Europe team will also be providing a free iPad Mini with every show purchase of 100 test strips. They will also be promoting the Insta-Link Home technology as a new way to test hot tub and swimming pool water thanks to a Smartphone app that can scan an Insta-Test strip to provide fast results.
Tim has reported that there has been interest in the Mobile Waterlink Spin Lab technology among UK dealers, such as Vita Spa and Marquis retailer Chris Brady of 1 Stop Spas, but as yet the demand in the British market has not matched the success achieved in the USA and Australia.
"The British wet leisure market has been fairly sluggish," said Tim. "In the USA it's become very popular with hot tub and pool specialists as they quickly realised how it can improve their services to their customers and also increase water treatment product profitability.
"I'm not sure why the same success has not yet been achieved in the British market. If hot tub retailers are not willing to adopt this type of technology then they are missing out an efficient way to launch water analysis capabilities and improve their customer service.
"Dealers that are proactive in this area of their business, like Chris Brady, can certainly stand out from other hot tub retailers and gain extra sales of water treatment products."
The Mobile Waterlink Spin Lab is contained within a waterproof and durable carrying case, which includes a photometer battery pack, battery charger, USB cable that can be used with Windows-based laptops, disk shield, calibration check disk, three syringes and instruction manual.
Hot tub or pool water is added to a unique WaterLink spin reagent disk then the disk is placed into the Water Link Spin photometer for efficient analysis in just 60 seconds. The results can now be sent wirelessly to iPhones and iPads, as well as Android mobile devices.
Each sealed reagent disk contains the precise amount of reagents needed to run a complete series of tests. The beauty is that hot tub or pool specialists, or their dedicated water treatment service professionals don't have to view colour reactions using colour comparators or waste time mixing liquid reagents, so it saves time and also increases accuracy in the process.
Tim reported that demand for additional supplies of the reagent disk from LaMotte USA's Chestertown-based factory in Maryland has surged in the past year and the company, which will celebrate is centenary in 2019, is in maximum production mode to meet the supply requirement from its customers around the world.
"This system has proved so popular that LaMotte is having to produce 40,000 reagent disks a day to try and keep up with the demand from customers," said Tim.
To find out how your company can gain an iPad Mini or for further details about the innovative LaMotte Mobile Waterlink Spin Lab visit the LaMotte Europe Stand E4 at SPATEX in the Jaguar Exhibition Hall at the Ricoh Arena from Sunday, January 31, to Tuesday, February 2.