Hot tub transforms soldier's life
Caldera Spas dealer SPS Swimming Pools and Spas has helped a 25-year-old soldier transform his life in more ways than one following the purchase of a top-of-the-range hot tub.
Sam Hobbs first fell in love with the idea of owning a Caldera Spas hot tub six years ago when he walked into the attractive showroom of the Holland-on-Sea-based SPS Swimming Pools and Spas dealership, which is supplied by exclusive Caldera Spas distributor Certikin International.
SPS Director Mel Spencer revealed that the Clacton-on-Sea-based soldier had become a regular visitor to the showroom not long after it was first opened and he and his girlfriend, Stacey, were immediately drawn to the hot tubs.
"I remember Sam being a very bubbly and engaging individual and this was the first of several visits," said Mel; "He would often say to us: 'I'm going to own a hot tub one day.'
"On his and Stacey's last visit he told us he was off on his first tour of Afghanistan. We wished him well and then didn't see him for a good three years but my husband, Sean, and I would often wonder what happened to that lovely guy and his young lady, as you do when you don't see people in the shop for a while, and we hoped he was ok.
"Then at the end of last year, Cathy in the office took a message from a soldier who said he had come into the showroom in the past and would like to visit again with a view to purchasing a hot tub. I knew in an instant it was Sam.
"We were devastated to hear that Sam was now an amputee after suffering serious complications from an injury he had incurred whilst on active duty in 2012.
"When Sam came to see me in the shop, I gave him a huge hug. It was so good to see him again. He told us that Stacey was now his wife and they had a little girl, Tiffany May, and were expecting number two literally any day."
Having bought their first home together, Sam and Stacey told Mel that they felt that a hot tub would be the finishing touch. Sam chose the top of the range Cantabria that is produced in the USA by Watkins Manufacturing, which was duly delivered and craned into the back of the couple's garden.
"The quality of this flagship Caldera Spas hot tub speaks for itself and it is as stunning as it is imposing," said Mel.
"This is a large spa, measuring 2.74m by 2.35m by 97cm deep, and is a true eight-seater with no skimping on space. The Cantabria's high specification level includes a cover lifter, 74 powerful water jets, 14 air jets and three 2.5hp pumps plus Spa Frog and Ozone.
"It comes with Bluetooth as standard and the feature that Sam particularly likes is the Ultramassage system which has an electronic sequencer that operates valves to send water to each jet to give up to six different massage patterns and speeds."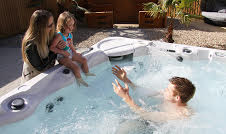 Sam, pictured in the Cantabria with Stacey and Tiffany May, revealed that before his injury he had resolved to have a hot tub for the sheer fun and enjoyment factor. Since his amputation he has been receiving rehabilitation treatment that includes sessions in a hydrotherapy pool at Headley Court in Surrey, and now he views owning his own hot tub as almost essential therapy.
"The benefits that I derive from going in the Caldera Spas hot tub are immeasurable," divulged Sam; "Both in terms of the physical massaging relief it gives my stump and for the mental relaxation that it imbues.
"It's not so much a luxury but an essential part of my day. And, of course it is something that as a family we can all enjoy and experience together. I can honestly say that having the Cantabria in the back garden has been nothing short of phenomenal and transformational."
But the story has an added twist to boost Sam's recovery even further. The enthusiasm that he showed about hot tub ownership has now helped him to land a new sales and marketing role at SPS Swimming Pools and Spas that will commence in September and include engineer training, once his current treatment ends.
"Talking to Sam about his choice of Caldera Spas hot tub, his passion and excitement was so infectious and tangible," said Mel; "Without trying, he sold himself to me as a superb salesman and I had a gut feeling that I wanted him on board as part of our team.
"So following the completion of his treatment at Headley Court, Sam will be joining SPS fulltime in September in a sales and marketing role which will then progress to engineer training to also work out in the field."
Sam is now eagerly looking forward to becoming part of the SPS team and to pass on his enthusiasm of hot tub ownership to new customers.
"Having the hot tub has enhanced the quality of mine and my family's life enormously," said Sam; "I'm delighted to be offered this opportunity to work for SPS and am looking forward to the challenges that it will present.
"I'm sold on the spa lifestyle and having experienced the benefits first hand I feel I'm a good advocate for the Caldera Spas brand and for helping others to make a confident and informed purchase."
SPS have been a Caldera Spas dealer since 2013 and Mel has praised the Caldera Spas specialist team at Certikin for their exceptional tuition on the pedigree hot tub technology.
Mel also revealed the dealership is preparing to take on the 'plug and play' Fantasy Spas range from Watkins Manufacturing, which is also supplied exclusively by Certikin International and was promoted earlier this year to the wet leisure trade visitors on the Certikin stand at SPATEX.
"It is an absolute pleasure to work with Certikin Director Ben Studdy and the Caldera Spas team, the back-up, support and training is exceptional," enthused Mel.
"In turn, we can supply and install Caldera Spas in the knowledge that they are a top quality product whose performance and technologically are evolving all the time.
"We're looking forward to having our new spring supply of Caldera Spas showroom models along with the new Fantasy Spas range of plug and play spas to fill our display area."