Hot tub water care product debut
Dutch Water Concepts is aiming to attract hot tub dealers to supply its O-Care water treatment product lines that will be officially launched to the British market at the UK Pool & Spa Expo.
The Sterrenbeeld-based company, which is a staunch supporter of water.org that has been co-founded by Hollywood star Matt Damon, is launching the O-Care water care products on Stand D32 during the fourth edition of the UK Pool & Spa Expo in the Birmingham NEC's Pavilion Hall, from November 22 to November 24.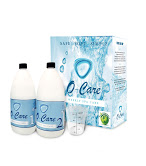 According to the company, O-Care is a mixture of high quality mineral salts. It is eco-friendly and can reduce the amount of chlorine or bromine used by 78 per cent as it removes and prevents biofilm, while ensuring clean hot tub water.
 A typical box of O-Care will last three to five months if users follow the instructions to add the two components to their hot tub water once a week using the measuring cup included with the product.
Ahead of the company's debut as an exhibitor at the UK Pool & Spa Expo, Roel Fassbender revealed that the O-Care hot tub water treatment product is highly effective and will provide great margins for any dealers that come on board.
"O-Care is a spa water conditioner that is new to the UK market and we are actively looking for premium resellers," said Roel.
For further details visit the O-Care stand during the UK Pool & Spa Expo's Consumer Day, which will be staged on Sunday, November 22, from 10am to 5pm; or the two dedicated trade-only days on Monday, November 23, from 10am to 5pm; and Tuesday, November 24, from 10am to 4pm.
To book stand space at the UK Pool & Spa Expo contact the New Events organising team on +44 (0) 1483 420 229.