HotSpring hot tub donation
HotSpring World in Peterborough has pledged to donate a hot tub to be the star prize in a raffle draw to help boost a research fund inspired by a five-year-old girl who suffers from a rare genetic skin condition.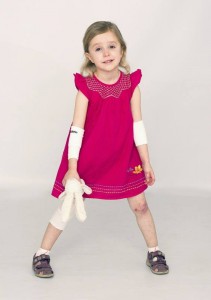 Phoebe Crowson, pictured, was diagnosed with Recessive Dystrophic Epidermolysis Bullosa, known as EB, which causes the skin to blister and break away at the slightest touch, shortly after being born. Since then Phoebe has been classed as being at the 'intermediate', and more serious, stage of EB due to blisters on her internal lining.
To help raise money for research into her daughter's condition Zoe Crowson established The Phoebe Research Fund, www.phoeberesearch.co.uk, which will be boosted in September with a Charity Dinner and Auction evening at the William Cecil Hotel that will feature the HotSpring hot tub raffle prize donation that will go to a lucky draw winner.
It has resulted in HotSpring World Peterborough Branch Manager Billy Harbison, based at the Dobbies Garden Centre at Serpentine Green with HotSpring Sales Consultant Claire Kelly, being featured with Phoebe in the local media as part of the publicity awareness and promotion for the hot tub raffle prize and ticket sales for the Charity Dinner and Auction evening.
Additional local businesses have also pledged their support for The Phoebe Research Fund, including Peterborough United FC, Ragdale Hall, The George Hotel, Sacrewell Farm, Nene Valley Railway, and Love Stamford, who have chosen The Phoebe Research Fund as its charity of the year.
"The support is uplifting for both myself and Phoebe," said Zoe; "She has had three lots of surgery over the last year, which is a lot for anyone to go through, but she stays strong and doesn't let her condition stop her from living life to the full."
Tickets for the dinner and auction evening, priced £50, include a welcome drink, three course meal, and entertainment. They are available from Zoe who is also seeking anyone who can provide entertainment, including local singers and bands, during the evening on September 3, being staged from 7:30pm to 11pm.
Anyone interested in helping The Phoebe Research Fund can contact Zoe via email on info@phoeberesearch.co.uk or directly on 07718071645.