HotSpring smashes November record
HotSpring has achieved its best ever November sales in the UK thanks to the record-breaking efforts of dealers and the success of promoting a trio of models from the new Highlife Collection NXT range.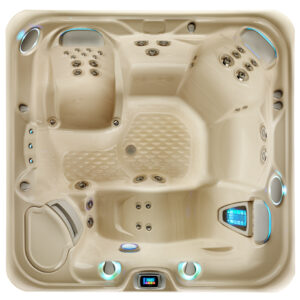 Retailing specialists at dedicated HotSpring showrooms have smashed the previous highest monthly figures for November after sales have been boosted throughout the year by the introduction of three cutting-edge Highlife Collection NXT models, including the 2014 WhatSpa? Best Buy Award-winning Envoy NXT, pictured, from Watkins Manufacturing, which have been designed with input from BMW Group Designworks USA.
The trio of NXT designs include the three-seater Jetsetter NXT, which comes in at 213 x 165 x 84cm and has 22 jets; the five-seater Envoy NXT, which comes in at 236 x 231 x 97cm with 43 jets and is currently the best-seller; as well as the seven-seater Grandee NXT, which comes in at 254 x 231 x 97cm and has 43 jets.
All three models have the ACE Salt Water Sanitisising System as standard, while there is also an option to combine the models with the EverFresh System.
In the 2014 Best Buy Awards Verdict on the Envoy, independent consumer magazine WhatSpa? states: 'The new Envoy NXT has taken contemporary spa design to the next level'.
HotSpring UK Retail Sales, Marketing Manager Lynda Smart reported that retailers had enjoyed success with the NXT models, especially the Envoy NXT model; as well as the entire HotSpring range this year, which has culminated in the record-breaking November sales.
"This year has been absolutely amazing for HotSpring dealers and I'm delighted to report that we've now achieved our best ever November sales figures in the UK," said Lynda.
"The new next generation Highlife Collection NXT range that we introduced earlier this year is absolutely stunning and the Jetsetter, Envoy and Grandee NXT models have really helped to boost our overall sales this year.
"They are really beautiful and have been an instant success with our dealers after making an incredible impact in their showrooms. These models have really created the 'wow factor' and our best seller in this range is currently the Envoy NXT.
"Thanks to the improving economy and extremely good weather throughout the summer and autumn there has been very strong demand for our products in our HotSpring showrooms this year. This demand is now continuing into the winter. Long may it continue!"
The success follows HotSpring World partnering with TV programme 'Love Your Garden' to donate a HotSpring Vanguard hot tub to a police officer injured in the line of duty for an episode that proved to be emotional for presenter Alan Titchmarsh.
During an instalment of the ITV garden makeover series, screened in the summer, the Vanguard model delivered from HotSpring World was combined with a project to transform the garden of policeman Pete McGinn at this Burton-on-Trent home.
Mr McGinn was crushed against a lamppost by a vehicle being driven by a burglar after resisting the officer's arrest. The incident left him with life-changing injuries and he has had to undergo numerous operations to rebuild his left leg.
"It was fantastic to see Mr McGinn so happy with his finished garden and he seemed especially delighted with his hot tub," said Lynda; "Alan Titmarsh had a few tears and so did I as I watched the programme."
HotSpring World has also donated a hot tub to assist the Living by Giving Trust in helping a nine-year-old girl from Milton Keynes who suffers from matachromatic leukodystrophy (MLD), for which life expectancy ranges from ten to 15 years.
"This story really touched our hearts," revealed Lynda; "Hearing the struggles she has to go through on a daily basis, and the efforts her parents go to in order to ensure she is as comfortable as possible, we hope our hot tub will make all of their lives a little easier.
"We fully understand how hydrotherapy not only helps to relieve pain, but also enables families to experience real quality time together.
"Plans are currently being finalised to make another donation of one of our hot tubs to a hospital next year."
www.hotspring.co.uk