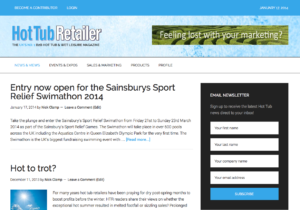 The Hot Tub Retailer team is pleased to announce the launch of its new trade website.
Hot Tub Retailer magazine teamed up with Doric Marketing to build and launch their new website to provide the wet leisure trade with up-to-the-minute news and commentary form the UK and across the globe.
Following a detailed brief, Doric Marketing Managing Director Dorian Davies tasked his digital team with designing a clean looking website that would enable the editorial staff at Hot Tub Retailer to publish features and articles as soon as they came in and also to disseminate the stories to a full range of social media and third party channels. The new website also allows authorised contributors to log in to the system and publish their own features rather than going down the traditional route of sending press releases and 'hoping for the best'.
Hot Tub Retailer magazine publisher Nick Clamp believes the new website and digital strategy will be vital to the wet leisure industry going forward and is the beginning stage of a series of digital project that will be ongoing over the next 18 months.
"We're sure that it will be a great tool for hot tub and swim spa dealers, distributors and manufacturers and will keep our news completely up to date, which has been a source of frustration with traditional magazine publishing," said Nick. "We will continue to produce Hot Tub Retailer in its printed format but the new website and future digital developments will ensure we deliver content in whatever way our partners want to receive it."