Hydrospares books double exhibition promotion
Hydrospares has booked into the UK Pool & Spa Expo and SPATEX to highlight its wide range of hot tub products and parts, along with a transformed online provision and modern eCommerce facility for the wet leisure industry.
Brother and sister duo John Ellis and Rosie Cook are currently promoting the success of Hydrospares, following a period of expansion and growth with extra financing from a Growth Funding cash injection of nearly £20,000.
They have been enjoying success at their new Cornwall-based headquarters in Redruth and are now targeting the two UK exhibitions, with Stand 204 at the NEC in Birmingham and Stand E7 at the Ricoh Arena in Coventry, to attract additional customers for a wide range of hot tub equipment and spa parts, from leading suppliers including Balboa, Certikin, Gecko, and Waterway.
Thanks to the Growth Funding boost in 2014, highlighted in the current edition of Hot Tub Retailer magazine, the company has produced a modern user-friendly eCommerce website, incorporating guidance from pop up support agents, to increase extra demand after a bumper year of sales, which Rosie will be promoting during the two UK exhibitions.
During the UK Pool & Spa Expo there will be an exclusive exhibition offer run by Hydrospares of a ten per cent discount when a new online account is opened. For details and to pick up an online code visit Rosie on Stand E7.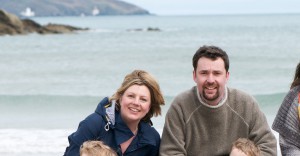 "I believe it is important to have a modern and user-friendly website to attract customers and ensure increased profitability by generating regular sales," said Rosie, pictured with brother John.
"We've made it possible for spa engineers out on the road to quickly price up a repair or place an order for parts directly from their phone or tablet device whilst out on site."
Hydrospares will be appearing at the UK Pool & Spa Expo on Stand 204 and at SPATEX on Stand E7.
UK Pool and Spa Expo 2015 opening hours for the first two days of the show, on January 22 and 23, will be between 10am to 5:30pm. On Saturday, January 24, the third and final day of the UK Pool and Spa Expo is the Consumer Day that will be staged between 10am and 3pm for exhibitors in Hall 10 to meet with members of the public as well as trade representatives.
SPATEX 2015 opening times for the first two days of the exhibition at the Ricoh Arena will be 9:30am on Sunday, February 1 and Monday, February 2. Both days are then scheduled to officially finish at 5pm. In keeping with tradition, there is a shorter day on the third and final day on Tuesday, February 3, which will run from 9:30am to 4pm.
www.ukpoolspa-expo.co.uk
www.spatex.co.uk