Hydrospares gains sweet success
Hydrospares has gained sweet success from a competition involving M&M's to win a Spa Sled Mover that was run at the UK Pool & Spa Expo and SPATEX and won by Caldera Spas and Marquis hot tub retailer BOS Leisure.
Following two successful appearances as exhibitors at the UK Pool & Spa Expo and SPATEX, Rosie Cook and brother John Ellis have had their efforts rewarded with enhanced trade awareness for their Hydrospares wet leisure products and spare parts company and specialist Splash-Tec business that creates luxury hot tubs for Princess Yachts International.
The siblings launched the Spa Sled Mover competition for trade visitors to enter at their stand during the UK Pool & Spa Expo, where they also landed the 'Best Website' Award at the UK Pool & Spa Awards hosted in the Gallery at the Birmingham NEC. They also invited additional entries from wet leisure specialists during their debut as a SPATEX exhibitor at the Ricoh Arena in Coventry.
Laid flat the Spa Sled Mover comes in at 8ft 8" long and 3ft 6" wide and can take loads of up to 450kgs. The patent pending device glides over surfaces easily with its special slippery coating but grips its heavy hot tub loads It can be rolled up for storage and easily carried by one person.
Roland Patterson of BOS Leisure entered a guess of 978 that was closest and only nine off the actual total number of 987 peanut M&M's in a glass jar that was on display on the Hydrospares stand throughout the two West Midlands-hosted wet leisure events.
He is now the owner of a new Spa Sled Mover that helped to generate high levels of interest at both exhibitions and forced Hydrospares to order extra supplies of the product to cope with the high number of purchases from hot tub retailers.
In joint second place was Elite Spas and Jacuzzi dealer Liam Shelley of All Weather Leisure, and Beachcomber and Jacuzzi dealer Glen Gardiner of Harris Pools & Leisure; who were both only ten off the total with a guess of 998. They each received a £20 voucher to spend on purchases from award-winning Hydrospares website.
"The Spa Sled Mover promotion and competition to guess the number of M&Ms has worked really well for us," reported John.
"This promotion ensured we were a lot busier on our stand than our first appearance at the UK Pool & Spa Expo last year, and we also had a good reaction from visitors during our first exhibitor appearance at SPATEX.
"It attracted a lot of hot tub retailers to our stand at the two exhibitions because of the fact that you've not got the height issues with this Spa Sled Mover product that you have with a spa dolly when transporting hot tubs.
"One of our main aims during both of the exhibitions was to promote the fact that our strength in the market is that we have complete knowledge about the products and parts that we are supplying. We're also always happy to give our professional advice and expert guidance to customers."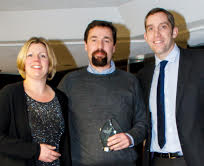 An investment of £20,000 from the Business Investment for Growth (BIG) scheme was ploughed into the Hydrospares website that won the 'Best Website' category in the UK Pool & Spa Awards. It was presented to Rosie and John by BBC Sports pundit and former Team GB swimmer Steve Parry, pictured right; who achieved a Bronze Medal in the 2014 Olympic Games in Athens and now runs his own Total Swimming mobile pool company.
"We're absolutely delighted to have won this award," said Rosie. "We've invested heavily in the website and put an immense amount of work into it.
"The traffic to our website has doubled year-on-year and we've really seen an impact that our investment has made in ensuring it is modern and responsive for our trade customers."
Splash-Tec also gained runner-up recognition in the UK Pool & Spa Awards 'Best Spa or Hot Tub' category for a bespoke luxury hot tub installation project in Knightsbridge.
"It was an exciting and challenging project," explained Rosie. "The client is absolutely delighted with the results we delivered."
John, who has designed Splash-Tec's unique waterfall system for hot tub projects on super yachts, is now hoping to continue to enhance the latest yacht models being produced by Princess Yachts International with his unique designs.
"It's really good fun to design and produce these bespoke hot tub projects. We've had to go through a lot of work to get our waterfall system right, but now we've really got it nailed after five years of development.
"We're expecting our work load to increase again now that Princess Yachts International has redesigned their yacht range. This is a very different kind of client than someone who wants a bespoke hot tub installed for domestic use.
"You can't just install a traditional hot tub on a boat. It has to have specific safety measures incorporated into its design, such as being able to empty quickly in case of emergencies."