Inflatable hot tub technology first
Inflatable CleverSpa hot tubs that are being distributed nationwide to a major retailing chain have become the first in the wet leisure market to incorporate technology that allows owners to gain remote control capability.
Many of the world's traditional hot tub brand manufacturers currently incorporate technology within their state-of-the-art models that ensures they can be controlled remotely by owners from smartphones, laptops, and tablets. The bragging rights for the first inflatable hot tubs with this enhanced user-friendly technology have now been claimed by Cheshire-based Clever Company with the introduction of the new CleverLink App.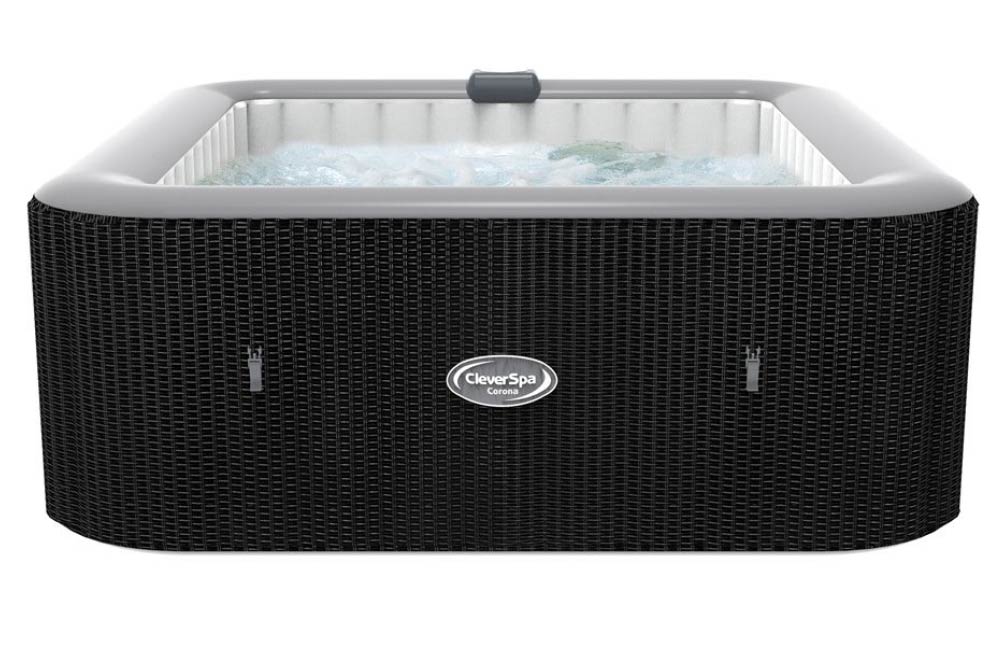 The Clever Company has launched the technology for the four-person CleverSpa Maevea round hot tub design; and the six-person CleverSpa Corona square hot tub model, pictured, which are now the first inflatable hot tub products to provide remote control benefits that are available to B&Q customers.
With a rattan design that is exclusive to B&Q and also matches the Maevea garden furniture range, CleverSpa Maevea owners can now control their inflatable hot tub wherever they are, by using the free to download CleverLink App.
It allows them to set the time and temperature on their smartphone when they are away from their home, so that the hot tub is ready to use immediately when they return. The rattan design is exclusive to B&Q and matches the Maevea garden furniture range.
Along with extra room to accommodate up to six adults, the CleverSpa Corona also features the built-in capability to be controlled by the CleverLink app and has a rattan effect finish that matches the Corona garden furniture range.
"Apps for traditional spas are not new, but we are first to market with this product, which will control an inflatable spa, bringing luxury and convenience at a very reasonable price," declared Clever Company CEO Peter McGuigan.
Along with the recent deal to provide the CleverSpa Maevea; and the CleverSpa Corona exclusively to B&Q; the Clever Company has agreements with other retailing chains, including Asda, GoOutdoors, Homebase, JD Williams, Tesco, and The Range, which have previously signed up to supply CleverSpa designs.
Following sales success in 2018, the Clever Company reported that the CleverSpa Sequoia would once again be exclusively stocked by GoOutdoors this year; and that Asda would continue to supply the CleverSpa Borneo this year, exclusively stocked in stores and online, after a hot reception for the inflatable hot tub from customers last year.
These announcements were followed up with The Range agreeing to exclusively stock the CleverSpa Bondi and CleverSpa Dakota inflatable hot tubs; and a new deal for Homebase to supply the CleverSpa Sorrento.
JD Williams also promotes the CleverSpa Inyo and CleverSpa Paradiso, both online and in their catalogue; while designated Tesco stores supply the six-person CleverSpa Marbella square hot tub, which includes colour changing LED lights and 140 air jets; as well as the four-person CleverSpa Amalfi hot tub that features a contemporary grey rope design.
From its Runcorn headquarters, Clever Company also supplies a special CleverSpa Celtic FC four-person design that is branded with the Scottish football club's crest and can be fully inflated in five minutes like its other CleverSpa counterparts.
Additionally, the company specialises in one and two-person inflatable kayaks, including the Clever Airpro X1 Kayak, Clever Airpro X2 Kayak; and has also developed the Clever AirPro 305 Inflatable Stand Up Paddleboard (iSUP).