Interbad highlights sauna financial threat
Interbad 2014 warned visiting hot tub retailers and wet leisure specialists that half of public saunas in Germany are in serious financial difficulties and will be threatened by a burden of further planned VAT charges.
The German Association for the Recreational and Medicinal Bath Industry's Managing Director Dr Christian Ochsenbauer reported that 50 per cent of the 2,150 public saunas in Germany had worrying financial problems, and that passing on additional proposed VAT charges would lead to a high loss of customers.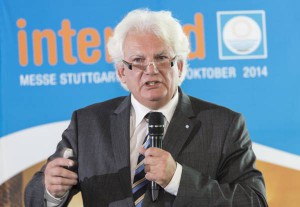 During his Interbad address he said: "Additional burdens, such as the EEG levy, the planned increase of VAT on admission prices for saunas from the current seven per cent to the standard tax rate of 19 per cent, and also, for example, the Biocidal Products Regulation, constitute an additional politically motivated problem.
"Passing on the VAT increases would lead to huge losses in customers, 650 smaller private saunas in particular would be affected. Approximately 700 municipal saunas could not pass on the additional tax burden.
"Towns and communities must offset the amounts in their budgets. For the town of Gottingen, for example, this would be roughly 160,000 Euros per year."
In a stark warning to the municipal pool providers who attract extra customers with the additional provision of saunas, Dr Ochsenbauer also disclosed that half of German students after primary education cannot swim safely and a bleak future would include pool closures that would hit swimming tuition even further.
He declared: "A downsizing effect on the portfolio of saunas and in the end even the pools could not be ruled out, as the local authorities for the most part have limited financial resources and in the event of even higher financial requirements the swimming pools with their sauna offers would be increasingly scrutinised from a political viewpoint and sometimes closures would not only be discussed as a solution, but also realised.
"The trend towards a declining number of people of the next generation who are able to swim would further intensify. According to current studies, already 50 per cent of students after primary education cannot swim safely.
"The swimming pool with attractive sauna facilities offers guests many diverse experience worlds, also with a preventative character. There the guest can fulfil his need for communication, experience athletic performance, as well as relaxation, well-being and joie de vivre."
A lack of public sauna facilities, though, may boost sales of saunas for private use and among exhibitors throughout the four-day showcasing of spas technology, swimming pools, sauna, physiotherapy and wellness at the Interbad exhibition in Stuttgart, specialist infrared cabins company Physiotherm was targeting the European sauna market by promoting the benefits of its patented Lavatech and SensoCare heat technology to both sauna and wet leisure retailers.
As well as a dedicated exhibition stand, the Austrian company had its 'RONDO' low-temperature infrared cabin on display in the Innovations Area for consideration and voting by thousands of Interbad visitors ahead of the inaugural Innovations Award ceremony; which saw first joint prizes go to the SafePrep xc calcium hypochlorite system from Evogua Water; and Sopro TitecFuge plus 2-10mm grout from Sopro Bauchemie Gmb.
London-based Physiotherm Sales Consultant Andrew Cooke promoted the Physiotherm technology during the UK Pool & Spa Expo at Birmingham NEC this year and believes that saunas can provide extra revenue for hot tub retailers looking for all-year-round products and income.
"The beauty of infrared saunas for hot tub retailers is that they can provide additional income throughout the year," said Andrew; "Because they are not viewed as a summer-only product, and sales are not dependent on the weather."
"They are suitable for every living space and have limited power requirements, so they are not really restricted to any potential customers."
President of Messe Stuttgart Ulrich Kromer highlighted that the number of international exhibitors at Interbad, including Cheshire Wellness and Caldera Spas Belgium, alongside German exhibitors such as iconic brand giant Villeroy & Boch had increased considerably to 41 per cent this year. He also declared that the strong economic sector of the saunas, swimming pools and wellness industry has more social importance than ever before.
"Increasing time pressure, constant availability, to-do list reminders, little exercise – there are many reasons to find a balance to our often hectic and unhealthy lifestyles," he said.
"Swimming pools, saunas and spas are much more than bare figures against the background of cost and energy-efficiency. They play a huge role in the physical and emotional well-being of many."
www.interbad.de